I may receive a commission if you purchase through links in this post. I am not a doctor; please consult your practitioner before changing your supplement or healthcare regimen.
50 Main Dish Potato Recipes shares both white potato and sweet potato recipes! Stock up on these inexpensive staples, and then let this recipe list inspire you with what to make for mealtime! Recipes are Whole30, Paleo and/or Vegan. Enjoy!
(Some of the recipes below are GAPS diet or AIP-friendly. I've indicated those recipes so they're easy to find.)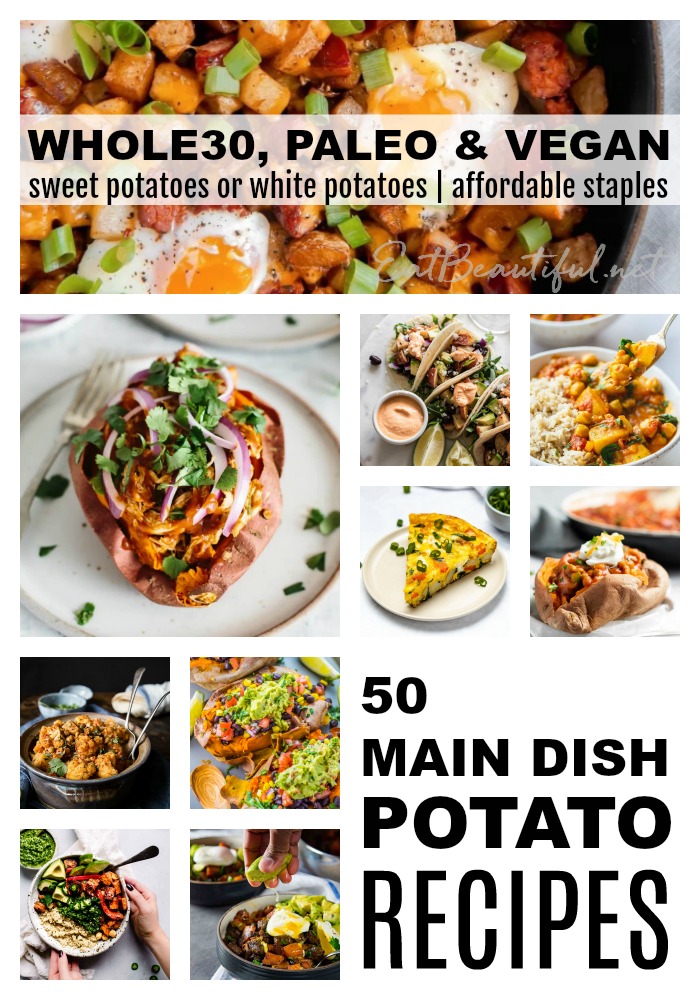 Are potatoes healthy?
Most people know that sweet potatoes are healthy, but fewer know that white potatoes are healthy too!:
All white potatoes are high in vitamins C and E.
When cooked and cooled, potatoes are high in resistant starch — great for colon health, the immune system and regularity.
Potatoes are a good source of fiber, certain amino acids, B vitamins and minerals.
Learn more about the nutrition in both sweet potatoes and white potatoes here.
Other benefits of potatoes!
Potatoes are well loved by many people groups around the world because they're inexpensive, delicious and store well. Potatoes also provide great energy, and they satisfy!
During times of famine or disease, potatoes can be counted on for main dish sustenance.
Examples in history include the Great Famine of 1845. Poor Irish families survived on potatoes, but they could not survive when the potato crops sustained a blight (about 1 million people died on their new diet of turnips).
Potatoes are truly nutrient dense.
So why did Americans believe potatoes weren't healthy for so long? During my childhood, potatoes were considered high calorie and low vitamin! (Don't always believe what you hear!)
White potatoes are indeed a nightshade, so they do cause inflammation in sensitive individuals. That used to be me. But sometimes when we heal our guts, we can expand our diets. And that's the case with me. Our family now eats lots of potatoes, and of course, we love them!
Main dish potato recipes
While potatoes can be enjoyed as a side dish, and often are, most home cooks today want to keep life simple! One dish meals are perfect for busy modern lifestyles.
The recipes in this round up include potatoes in the main dish — both sweet potatoes (now wildly popular) and white potatoes (or sometimes white potato varieties, such as new potatoes).
The following 50 Main Dish Potato Recipes are separated into the following categories:
Whole30 and Paleo White Potato Recipes
Whole30 and Paleo Sweet Potato Recipes
Primal (Paleo + dairy) White Potato Recipes
Vegan White Potato Recipes
and lastly, Vegan Sweet Potato Recipes
I decided to include Vegan recipes in this round-up because so many families have stocked up on pantry staples for current quarantines. Although the Paleo diet does not include legumes, many Ancestral families or those on the GAPS diet do include this food group. If you'd like to exclude meat from some of your meals, enjoy the collection of Vegan recipes (or add sustainable meat to them).
Most of these recipes are intended as dinner recipes, but many will be great for breakfasts, brunches or lunches. You are likely to get leftovers! from many of these potato main dishes. 🙂
GAPS and AIP recipes
Lastly, I have labeled which recipes are GAPS diet and AIP-friendly.
You may choose to use new potatoes for GAPS recipes (as advised for the reintroduction phase). All GAPS recipes are under the Whole30 and Paleo or Primal White Potato Recipes sections.
For AIP, I've noted when slight changes are needed to make a recipe compliant. All AIP recipes are under the Whole30 and Paleo Sweet Potato Recipes section.
Whole30 and Paleo Potato Main Dishes
Whole30 and Paleo White Potato Recipes
Mexican Crispy Potato Bowls (also GAPS-friendly)
Chicken Caesar Twice Baked Potatoes
Potato and Green Pea Frittata (also GAPS-friendly)
Mediterranean Crustless Quiche with Brined Olives, Roasted Peppers, Potatoes and Za'atar (also GAPS-friendly)
Authentic Spanish "Tortilla" (also GAPS-friendly)
3-Minute Bacon Potato Cauliflower Leek Soup in the Instant Pot (also GAPS-friendly)
Oven Roasted Corned Beef Hash Brussels Sprouts
Chorizo and Pepper Stuffed Potatoes (also GAPS-friendly)
Potato Soup with Bacon and Chives (also GAPS-friendly)
Whole30 and Paleo Sweet Potato Recipes
Sweet Potato Soup (for AIP: omit pepper and paprika)
Sweet Potato-Chestnut Soup with Sage and Bacon
BBQ Chicken Stuffed Sweet Potatoes (for AIP: use approved BBQ sauce)
Steak and Sweet Potato Hash (for AIP: omit 3 peppers, allspice and egg on top)
Pulled Pork over Mexican Sweet Potato Rice
Shepherd's Pie with Porcini Mushrooms and Beef
Paleo Chicken Nuggets with Sweet Potato (for AIP: omit chili powder)
Sweet Potato & Sausage Hash (also AIP)
Sweet Potato Breakfast Hash (great for dinner too!)
Twice Baked Sweet Potatoes (with Runny Eggs and Bacon)
Sheet Pan Sweet Potatoes, Apples and Chicken Sausage (also AIP)
Warm Sweet Potato Noodles, Cabbage and Lentil Salad
Primal (Paleo + dairy) Potato Main Dishes
Primal White Potato Recipes
Loaded Crock Pot Mashed Potatoes Recipe
Buffalo Potatoes (gourmet gorgeousness)
Shepherd's Pie Loaded Baked Potatoes
Italian Sausage, Potatoes, Peppers and Onions
Chorizo Potato Breakfast Skillet
Cheddar and Bacon Twice Baked Potatoes (also GAPS-friendly, use real, probiotic, fully fermented sour cream)
Vegan Potato Main Dishes
Vegan White Potato Recipes
Crispy Potato Tacos with Chipotle Sauce
Instant Pot Aloo Biryani (Potatoes and Rice)
Instant Pot Aloo Matar (Potatoes and Peas in Tomato Sauce)
Aloo Gobi (Potato and Cauliflower Curry)
Roasted Potato Veggie Power Bowl
Twice Baked Broccoli and Kale Potatoes with Cashew Avocado Cream
Vegan Sweet Potato Recipes
15-Minute Lentil Sloppy Joe-Stuffed Sweet Potatoes
Mediterranean Baked Sweet Potatoes
Sweet Potato and Chickpea Bowl
Sweet Potato, Black Bean and Rice Bowls
Slow Cooker Sweet Potato Chili
Vegan Curry with Sweet Potatoes
Vegan Breakfast Mashed Sweet Potato Bowl
Black Bean Taco Stuffed Sweet Potatoes
Savory Twice Baked Sweet Potatoes
If you love frugal soups, also check out my newest cookbook! Secrets from a Bone Broth Kitchen shares a wonderful variety of potato recipes for wellness diets.

What are your favorite potato recipes?