I may receive a commission if you purchase through links in this post. I am not a doctor; please consult your practitioner before changing your supplement or healthcare regimen.
This gummie snack is simply a gelatinized version of tea: ginger, fennel or mint — so super gentle and easy to make, but yummy and fun.
GAPS Introduction diet and the need for gummies
I love meeting with folks on extreme healing diets! Praises for all of the effort, heart and hope involved with this serious commitment!
When a client's children are struggling on the GAPS Introduction Diet, especially during Stage 1, or Mama's having a hard time keeping them fed, one of the challenges is having snacks!
Stage 1 of the GAPS Introduction Diet is basically just soup and tea. I always encourage plenty of fats, meats and winter squash/carrots/beets in the soups to help everyone feel full and nourished. (Here are some of my other tips for succeeding on GAPS Intro.)
But kids (and adults) often feel the need for something sweet … and a bit of variety where texture and temperature are involved.
Tea is allowed between meals: honey-sweetened ginger tea is the most common/recommended.
So this snack is simply a gelatinized version of the tea.
The gelatin helps to heal the gut. The tea is gentle.
The gummy bear and worm-shaped molds make the treat extra special for kids. (Find them here.)
The amount of gelatin in the gummies makes them candy-like, and the amount of honey used is up to your discretion. (But I do give some advice and variations on this in the Recipe notes below.)
Make one recipe of these treats, up to 3 flavors!, and keep them in a mason jar in the fridge.
They'll help everyone to feel more satisfied in the early days of deprivation, struggle and perseverance!
Keep up the good work! It's leading somewhere good…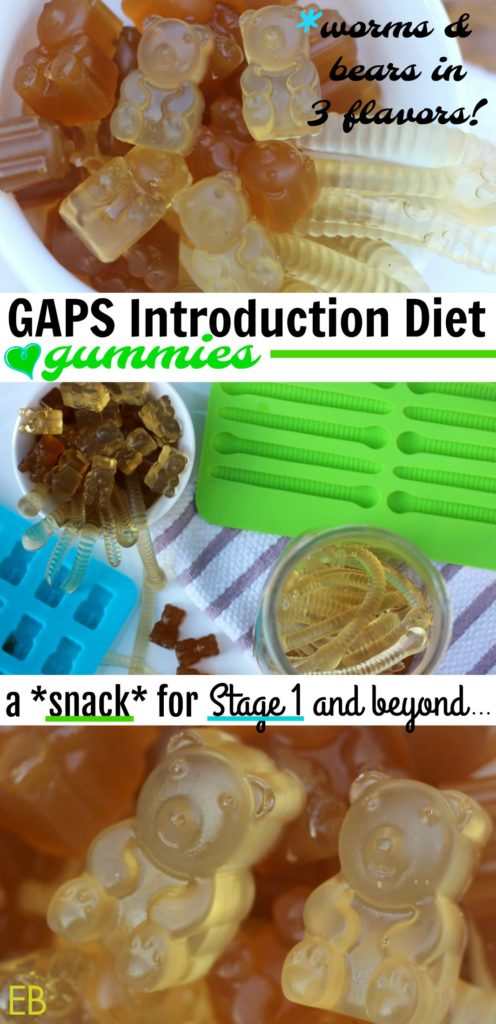 Print Recipe
GAPS *Introduction Diet* Gummies
Ingredients
2

cups

filtered water

½

cup

gelatin

see link below for discount in Recipe notes

up to 3

tablespoons

raw honey

see Recipe notes below for quantity of sweetener, or sweeten to taste

2

ginger tea bags

or 2 tablespoons grated/minced fresh ginger root (from about 3" of root)

1

licorice/fennel/anise tea bag or 2 teaspoons fennel seed

2

peppermint tea bags

or 4 large sprigs fresh peppermint or spearmint (or 20-30 leaves of varying sizes)
Instructions
Place 4 empty gummy molds (see link below for gummy molds) on 1-2 large cookie sheet(s). Make room in fridge for 1-2 cookie sheets. (You can use just one cookie sheet if you stack the molds 2 on the bottom and 2 on top.)

Add water to large saucepan.

Sprinkle gelatin over water. Stir in with fork. Allow to bloom for several minutes.

Set out three large mugs, bowls or heat-proof cups. Add 2 ginger tea bags to one cup, 2 peppermint tea bags (or fresh mint) to second cup and reserve fennel/licorice.

Place saucepan over medium heat, stirring continually until water is steaming hot and all gelatin is completely dissolved.

Ladle

¾

cup hot water into each mug with tea bags. Add sweetener to all three mugs, but don't yet stir in. (See Recipe notes for how much sweetener to add.) Add fennel seeds to remaining gelatin water in pan, and keep pan over low heat. Allow all herbs to steep 10 minutes.

Remove tea bags from each mug, or fresh herbs, and squeeze out any extra water. (If using fresh ginger, strain through fine mesh strainer pressing on solids.)

Pour fennel seed water through a strainer into final cup with honey to remove solids.

Stir honey into each mug, so it completely dissolves.

Use the dropper that came with gummy molds to distribute three gummy flavors into gummy molds.

Transfer cookie sheet(s) with gummy molds to fridge for minimum of 3 hours.

Once gelled, unmold gummies. Serve or store in sealed containers in fridge. I like to use wide-mouth, quart-size mason jars for storage. Enjoy!
Notes
Gelatin *Discount*
Use this link for a 10% discount at Checkout. Enter the code BEAUTIFUL10.
How much sweetener?
You can use up to 1 Tablespoon honey for each flavor. This will make a gummy that's pretty sweet, but still tastes healthy.
If you prefer the gummies to be less sweet, try adding 1-2 teaspoons honey and then tasting, remembering that the liquid tastes sweeter than the firm gummy.
If you are fighting candida and want to use no sweetener or stevia, those are fine options as well (although stevia is not technically GAPS Intro legal; so do so using your own discretion). If you choose stevia, sweeten to taste.
Need more help on GAPS Intro? Read about Vitamin U and Zinc Carnosine here and the profound help they can provide.
Phasing into GAPS-legal baked goods?!

Check out my cookbook (eCookbook here), with a unique approach to GAPS baking, that prioritizes *digestion and *healing with every recipe. (Hard copy here.)