I may receive a commission if you purchase through links in this post. I am not a doctor; please consult your practitioner before changing your supplement or healthcare regimen.
Smashed Potatoes (with resistant starch!) are a fabulous side dish that's easy to meal prep ahead of time. Make this potato dish alongside your favorite main dishes. Or, use Smashed Potatoes as an appetizer base; they make a great finger food with toppings! More on that below …
Smashed Potatoes with resistant starch was one of the first smashed potatoes recipes to be published on the internet. That's because the gourmet cooking method became popular right when I learned about resistant starch. The two went together so well!
Smashed Potatoes are a classic recipe for a crispy creamy comfort food that's healthy — and perfect for many diets, including Paleo, Primal, Whole30, Vegan and Gluten-free.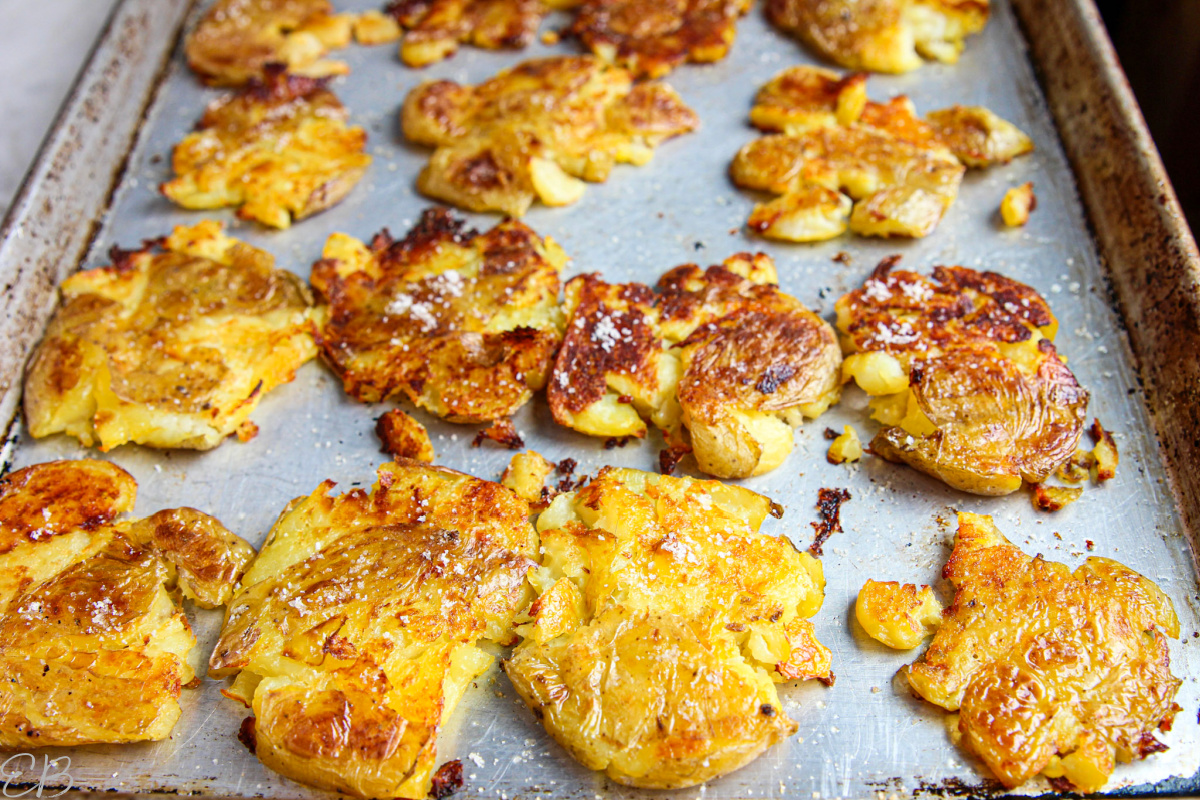 Jump to Recipe
Are potatoes healthy
When I was little, no one thought potatoes were healthy. Nor was white rice.
They didn't know about resistant starch!
Of course, potatoes can be healthy either way — full of Vitamin C, folate, iron, phosphorus, potassium, niacin and pantothenic acid, not to mention phytonutrients.
But, Smashed Potatoes with resistant starch (RS) do need to be prepared a certain way — to have RS!
Potatoes don't have RS when they're freshly cooked … It's a matter of nurture. So in this recipe, I show you how to be sure yours have it.
I share how to cultivate resistant starch in your already delicious preparations, to be sure your meal is extra healthy for your colon health and immune system.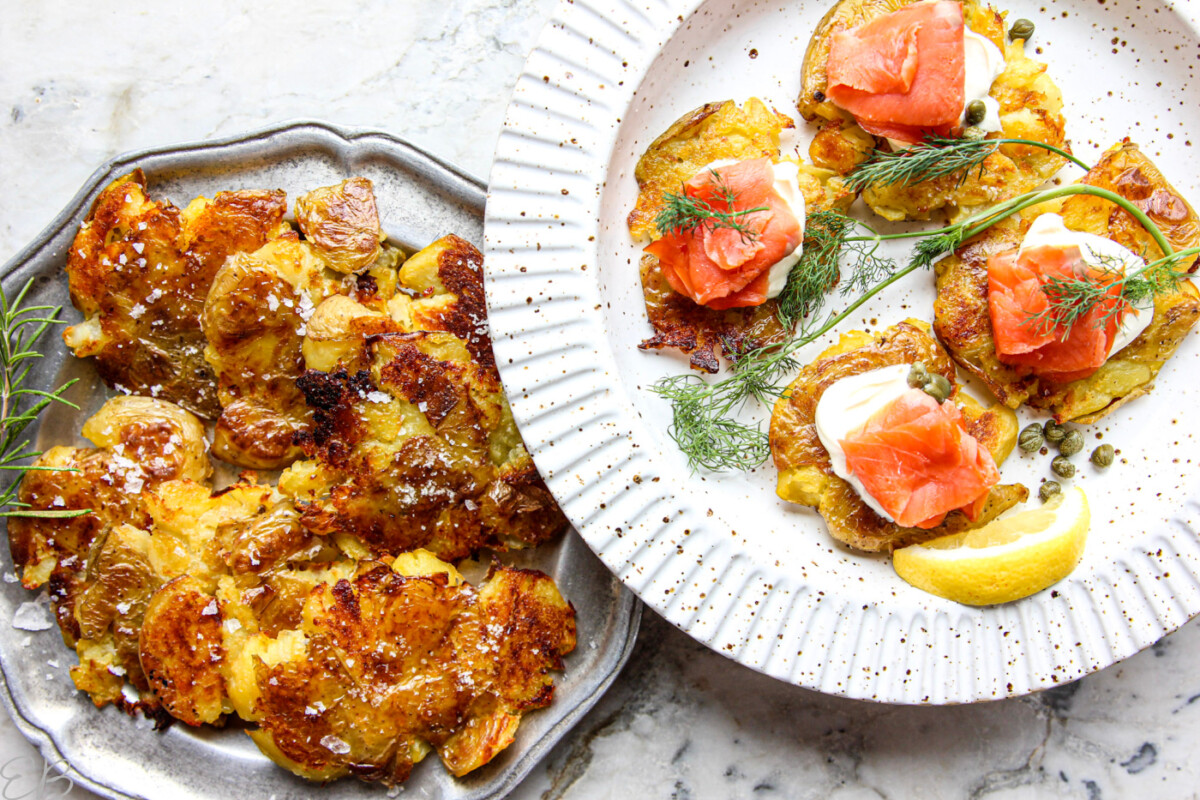 What are prebiotics and resistant starch
What is resistant starch?
Resistant starch is one variety of prebiotic food.
What are prebiotics?
Prebiotics are food for probiotics.
Here's how prebiotics work in our bodies:
When our good gut flora consume prebiotic foods they produce butyrate.
Butyrate is a short chain fatty acid that is, in turn, consumed by T cells.
T cells are super important in our bodies: They fight inflammation, prevent autoimmune diseases and cancer, and even fend off antigens* and pathogens. (*Antigens are substances that prompt our bodies to have an immune response by producing antibodies. T cells can distinguish between different kinds of antigens and prevent an autoimmune response.)
Watch my You Tube video on prebiotics here to learn more.
When we eat lots of prebiotic foods, like foods that contain resistant starch, we are in essence creating an army of T cells to help keep ourselves well.
Our bodies produce fewer T cells as we age; so it's a good idea to promote their proliferation.
RS3 resistant starch
The form of resistant starch that potatoes have the potential to yield must be created by:
first cooking them
then cooling them
This kind of resistant starch is called RS3, or retrograded. Once cooled, RS3 containing foods can indeed be reheated.
Cooled RS3 foods that have been cooked are very high in RS. So cold leftover Smashed Potatoes are a great idea.
This is how I got the idea to start using Smashed Potatoes as an appetizer:
Serve Smashed Potatoes as an appetizer or side dish with toppings.
See the section below for ideas.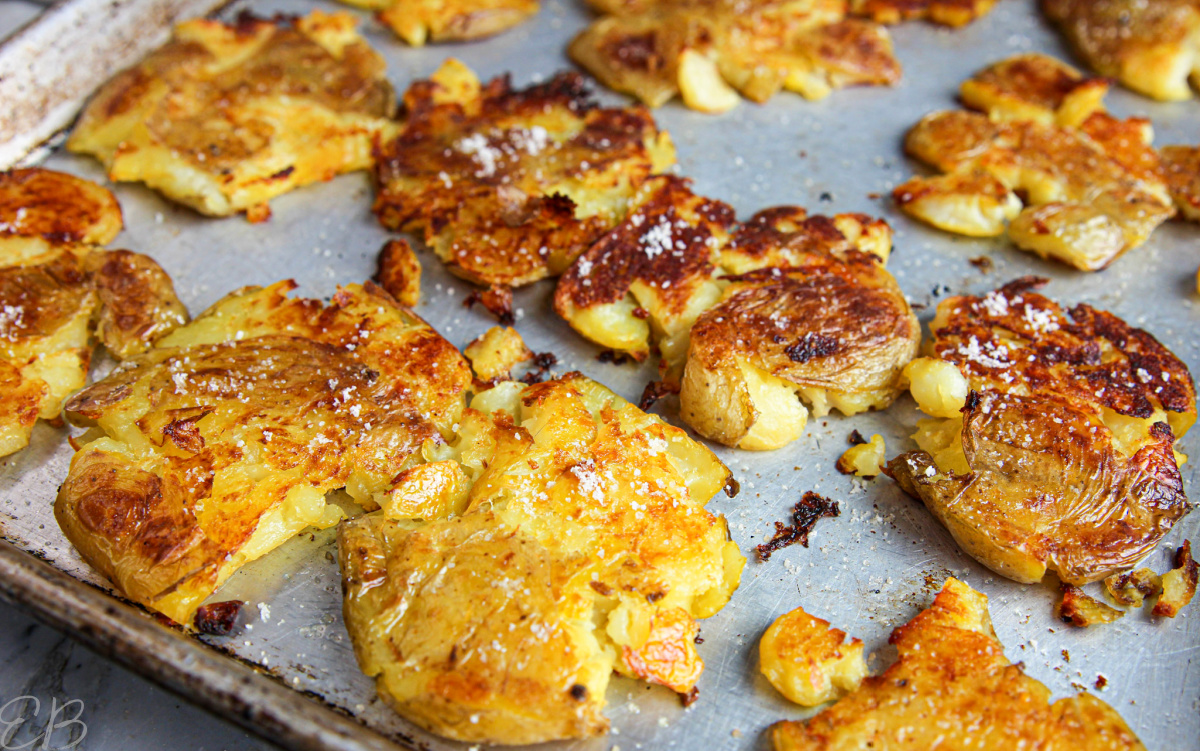 How to use Smashed Potatoes for an appetizer
Smashed Potatoes are way better than a little piece of toast for loading up with beautiful appetizer toppings! Try some of these on top of your Smashed Potatoes, for easy, impressive, crispy, creamy, delicious savory bites:
Smoked Salmon with sour cream and fresh dill, optional thinly sliced cucumber: See photo below.
Mexican ground beef, sour cream/Avocado Crema, olive slices, and optional spicy red pepper sauce, fresh cilantro and guacamole/avocado.
Pastrami and sauerkraut, optional melted Gruyère or Swiss cheese, for those who eat dairy, on the potatoes before the meat and kraut.
Olive tapenade, marinated artichoke and chèvre or feta.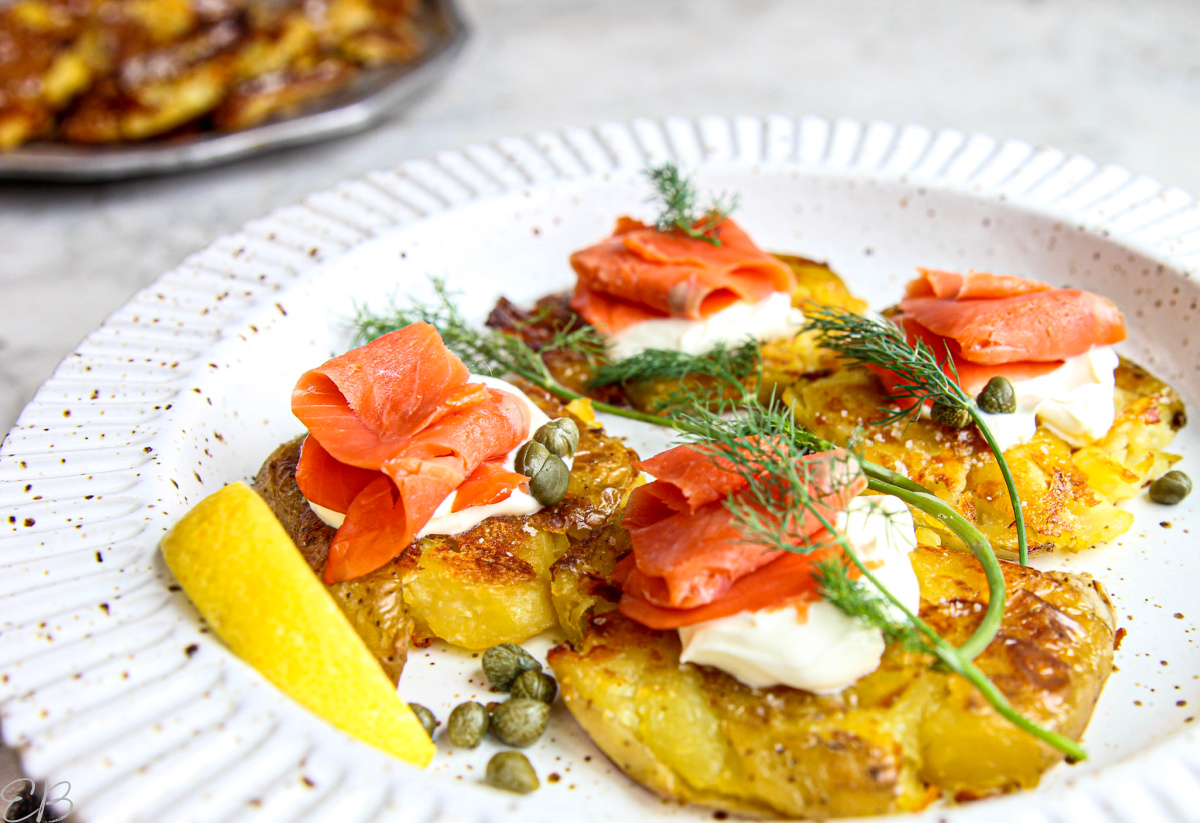 What to serve Smashed Potatoes as a side dish with
Smashed Potatoes make a great side dish for traditional American foods, such as holiday fare, steaks or roasted chicken.
But they also go great alongside ethnic dishes, like Indian curries, Greek mezzas and with Mexican breakfasts!
Here are a few great Gluten-free recipes to consider:
Smashed Potatoes' Resistant Starch
Let's look at how this Smashed Potatoes recipe takes RS3 into account:
We cook and cool the whole potatoes. — This health food method is also convenient. Boil potatoes ahead of time, say on a weekend or when you have time home, then pop into the fridge until you're ready to quickly smash and bake them.
When we smash and bake them, they become cozy on the inside, crusty on the outside — and full of prebiotics (from the prior chilling).
This approach to cooking is a slow food version of fast food potatoes, plus more delicious.
Which potatoes have the most resistant starch
If you can get your hands on purple heirloom potatoes, they have the highest levels of nutrition and resistant starch, once cooked and cooled.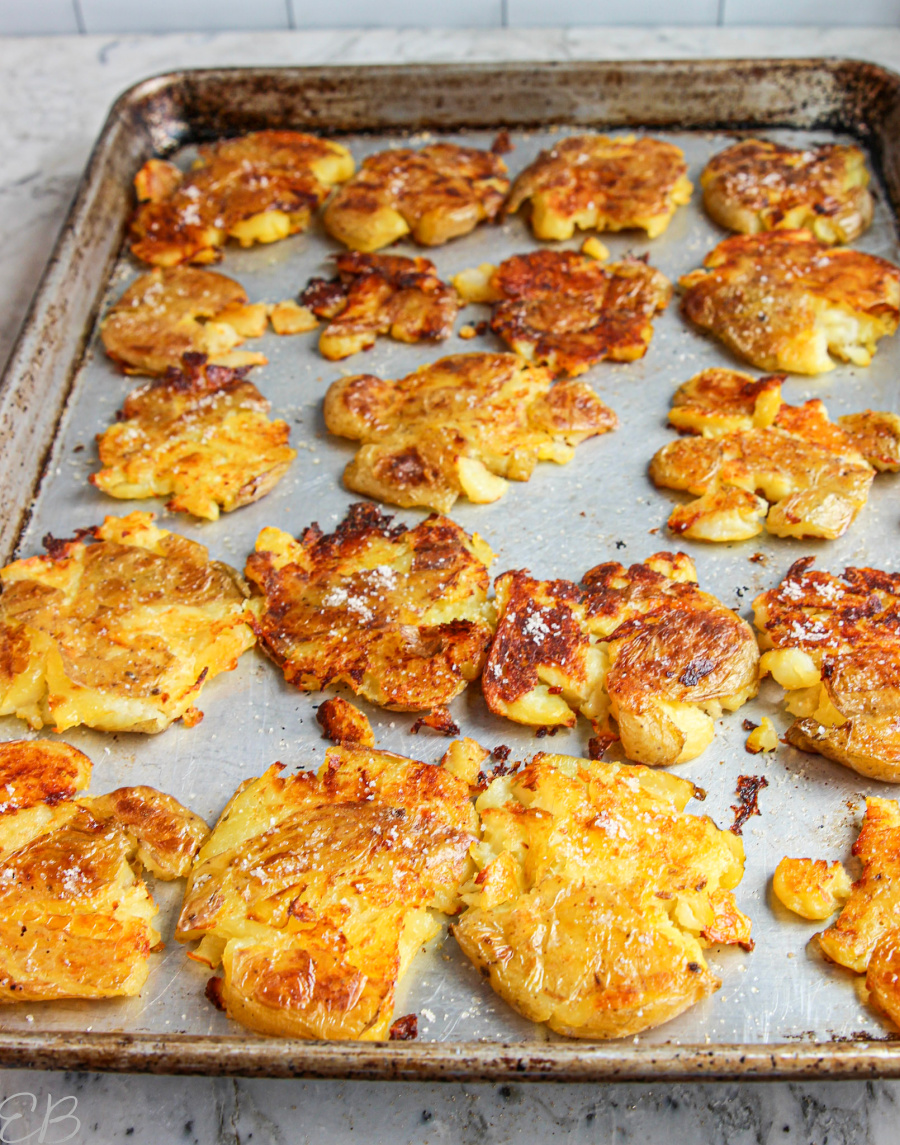 Print Recipe
Smashed Potatoes
Smashed Potatoes (with resistant starch!) are a fabulous side dish that's easy to meal prep ahead of time. Make this potato dish alongside your favorite main dishes. Or, use Smashed Potatoes as an appetizer base; they make a great finger food with toppings!
Equipment
pot for boiling potatoes

sheet pan

spatula

oven
Ingredients
2-

½

pounds

potatoes

New, Red, or small Yukon Gold, washed

¼

cup (approximately)

avocado oil

for drizzling; you may use duck fat, if preferred (melted)

sea salt

to taste
Instructions
Place potatoes in large pot. Cover with water by 1". Boil slowly until fork tender, about 25 minutes, depending on their size. Drain and cool potatoes. Refrigerate them overnight or for 4 to 6 hours.

Grease large cookie sheet with avocado oil or duck fat. Set aside.

Preheat oven to 400 degrees Fahrenheit. With the back of an offset spatula, smash each potato. (I like to smash each one twice, as the thinner they are, and the more smashed, the more bits get crispy and flavorful.)

Place onto prepared greased cookie sheet. Drizzle generously with avocado oil and sprinkle with sea salt. (Use your fingers to rub the top of each potato with the oil.)

Bake 25 minutes, then flip each potato. (If some are a lot darker, you can rotate them around so the darker ones get moved to the center of the pan, and the lighter ones are moved to the edges.) Bake 10 additional minutes. Serve.
Nutrition
Calories:
139
kcal
|
Carbohydrates:
13
g
|
Protein:
2
g
|
Fat:
9
g
|
Saturated Fat:
1
g
|
Polyunsaturated Fat:
1
g
|
Monounsaturated Fat:
6
g
|
Sodium:
88
mg
|
Potassium:
318
mg
|
Fiber:
2
g
|
Sugar:
1
g
|
Vitamin A:
2
IU
|
Vitamin C:
15
mg
|
Calcium:
9
mg
|
Iron:
1
mg
You can Pin Smashed Potatoes with Resistant Starch here: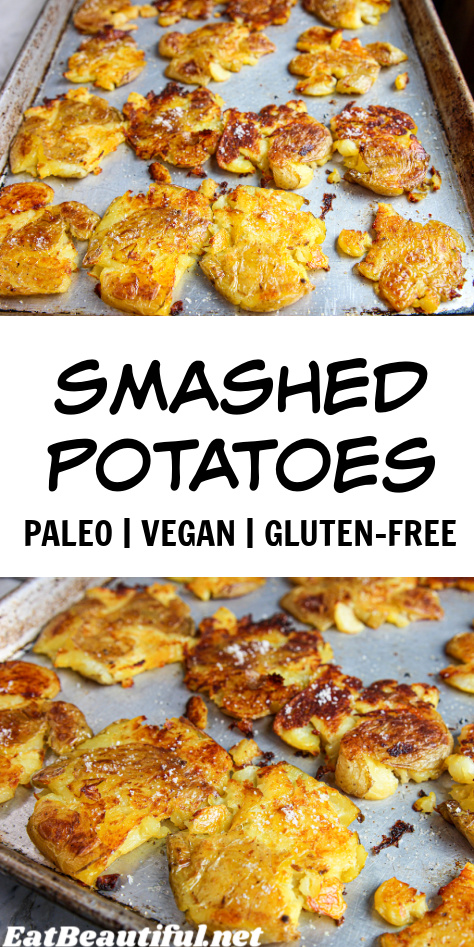 More Paleo side dish recipes you'll enjoy:
Why are potatoes Paleo (and are they GAPS compliant)
You might be wondering if these Smashed Potatoes are GAPS, and what makes them Paleo-friendly?
Potatoes are GAPS-friendly for those phasing off the diet. New potatoes are the first food recommended by Dr. Natasha Campbell-McBride, to challenge and see how one does, a very gentle starch.
Potatoes are Paleo because the foremost Paleo thinkers are advocates for smart carbs, smart starches and specifically for adding in resistant starch. Many Paleo educators even recommend potato starch powder as a source of RS; but we all know that in former days when everyone was eating good, mineral rich foods no one was eating a pesticide grown (think dirty dozen) factory-made anything. Whole foods! That's the way!
Lastly, potatoes are not for everyone. Potatoes are in the nightshade category of produce. So if you have or get achy joints from potatoes, they're a good food to avoid.