I may receive a commission if you purchase through links in this post. I am not a doctor; please consult your practitioner before changing your supplement or healthcare regimen.
Seven Layer Magic Cookie Bars are magically like you remember them, but a whole lot healthier! With whole foods like Fair Trade chocolate chips, homemade sweetened condensed milk-meets-caramel, and shaved dried coconut, you'll LOVE the same classic flavors but feel better about them.
Also, look forward to a nutty, grain-free shortbread crust! This festive treat can be made Keto, Low Carb or Paleo. — All turn out perfectly, and you'll love bringing them to share for holiday parties or other gatherings.
Jump to Recipe
Seven layers in Seven Layer Magic Cookie Bars
This bar only needs to have five layers, depending on how easy you want the making of them to be.
With five layers these bars are already perfect, so don't feel deceptive 😉 if you call them Seven Layer Bars. After all, a Seven Layer Bar is a kind of cookie: The theme has a shortbread crust, a caramel-ly layer of sweetened condensed milk, layers of shaved coconut, pecans or walnuts and chocolate chips!
You can also add the customary homemade butterscotch and white chocolate chips. I sometimes omit the final two toppings to make life easier!
If you feel it's important to have seven toppings, make the homemade Keto/Low Carb butterscotch chips here and Paleo butterscotch chips here! They're lovely!
Make homemade white chocolate chips with this Paleo version or this Keto/Low Carb recipe (yum!).
Or if you love nuts, you can top your bars with not just pecans or walnuts, but pecans, walnuts AND chopped macadamia nuts — all three of which are healthy!!, delicious and naturally low in carbs — thus making 7 layers.
Time Saver
Processed butterscotch chips and white chocolate chips have very unnatural ingredients in them. To date, I have not seen Keto, Low-Carb or Paleo white chocolate chips or butterscotch chips being sold.
I do love the homemade recipes for these, though! Time saver?: Make the white chocolate chips and butterscotch chips another day for general use. Then you'll have them on hand when it's time to make this recipe!
Shortbread Crust ingredients
This cookie bar crust is made with blanched almond flour.
Or if you like variety, it's also okay to make your own nut crust from either walnuts or macadamia nuts. A quick series of pulses in the food processor yields an easy-to-use nut flour for your baking needs.
The shortbread crust for these cookie bars is a combination of nuts and coconut flour, to create a flaky, crumbly, tender crumb that's pie crust-meets-cookie. Yum!
This nut-coconut flour crust is Keto/Low Carb or Paleo, depending the sweetener you use.
How to make the caramel sauce
Most standard Seven Layer Magic Bars use sweetened condensed milk from a can. I made several batches of these bars to experiment with what we liked better: homemade Low Carb or Paleo sweetened condensed milk OR the same versions of a light homemade caramel.
We all agreed: Caramel wins. So my sweetened condensed milk is caramelized for more flavor … and even has a touch of sea salt — delicious!
For this reason, be sure to follow the cooking times below: The crust bakes first, the caramel cooks (easy process!) on the stove top while the crust bakes … then, don't let the caramel cool and hang out in the pan. As soon as the crust is topped with a couple of the toppings, fresh from the oven, the caramel coats it all — and finally firms up on the crust.
I top all with a final smattering of chocolate chips and pecans.
Cooking times vary slightly on the condensed milk caramel, depending on what sweetener you use, with a longer cooking time for the low carb sweetener version. You'll see all that below in the recipe!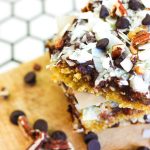 Print Recipe
Seven Layer Magic Cookie Bars — Keto, Low Carb and Paleo
Fair Trade chocolate chips, homemade easy caramel, nuts and shaved dried coconut, you'll LOVE the same classic flavors but feel better about them. Also, look forward to a nutty, grain-free shortbread crust! This festive treat can be made Keto, Low Carb or Paleo.
Ingredients
Shortbread Crust
1-⅓

cups

blanched almond flour

OR, macadamia nut flour (or walnut flour, pulse nuts in food processor)

1

cup

butter

(melted and cooled slightly, or coconut oil for dairy-free)

⅔

cup

coconut flour

½

cup

Swerve

(or other Keto/Low Carb granulated sweetener OR coconut sugar for Paleo)

¼

cup

heavy cream

or coconut cream

2

egg yolks

2

Tablespoons

collagen

peptides (see link and discount code in Recipe Notes)

1

teaspoon

apple cider vinegar

½

teaspoon

baking soda

(sifted)

¼

teaspoon

sea salt
Sweetened Condensed Milk/Caramel Sauce
1

cup

heavy cream

or coconut cream

¾

cup

allulose

for Keto, OR coconut sugar for Paleo

⅛

teaspoon

sea salt
Toppings
1-

¼

cups + 2 Tablespoons

pecan

pieces

1-

¼

cups

dried coconut

(unsweetened)

1

cup + 2 Tablespoons

low carb chocolate chips

(Use Lily's for Keto/Low Carb, use Fair Trade Paleo or standard chips according to dietary choices; see Recipe Notes for links and tips on the best chocolate chips)
Instructions
Preheat oven to 350° Fahrenheit.

In large metal bowl combine dry crust ingredients: nut flour, sweetener, coconut flour, collagen, baking soda and sea salt. Mix together well.


In a small bowl combine mostly cooled butter, cream, egg yolks and apple cider vinegar. Add liquids to flours. Use hand held mixer or a fork to thoroughly combine ingredients.


Spread and press crust ingredients over the bottom of 9" by 13" pan or casserole dish. (It will be sticky like cookie dough.) Wet four fingers of one hand to pat dough into pan and prevent sticking.


Bake in preheated oven 15-20 minutes. (Walnut-based crusts burn more easily, so watch closely. If the top of the crust burns a bit, it will not affect the crust's overall outcome.) While it bakes, make the condensed milk.
Sweetened Condensed Milk
Place cream in heavy bottomed saucepan. Add sweetener. Heat over high heat, stirring the whole time until the sweetener is fully dissolved and cream is steaming hot but not yet simmering. Reduce heat to medium. Do not stir anymore.


Keto, Low Carb version with allulose: Allow cream to fast simmer/slow boil 14 minutes. Paleo version with coconut sugar: Allow cream to fast simmer/slow boil 8 minutes. Remove from heat, and use within 5-10 minutes. Do not make ahead, because it will set up and does not reheat well.
Assembly
Sprinkle 1-¼ cups pecans over surface of baked crust. Top with

½

cup chocolate chips. When sweetened condensed milk has cooled 5-10 minutes max, pour it over the pecans and chocolate chips. Top with shredded coconut and press down lightly on coconut. Top with remaining 2 Tablespoons pecans and

½

cup + 2 Tablespoons chocolate chips (placing these chocolate chips on top prevents all of the chocolate chips from melting under the hot caramel).

Allow to cool to room temperature, about 2-3 hours. Cut into 24 bars if moderating carbs, or larger pieces if desired, and serve.

Notes
Find the best grass-fed collagen

HERE

. Use code BEAUTIFUL10 at checkout for 10% off your entire order.
Which Fair Trade chocolate chips to buy?
Nutrition
Serving:
1
g
|
Calories:
176
kcal
|
Carbohydrates:
7
g
|
Protein:
2
g
|
Fat:
18
g
|
Saturated Fat:
9
g
|
Cholesterol:
54
mg
|
Sodium:
141
mg
|
Potassium:
40
mg
|
Fiber:
2
g
|
Sugar:
1
g
|
Vitamin A:
440
IU
|
Vitamin C:
0.1
mg
|
Calcium:
16
mg
|
Iron:
0.3
mg
Similar recipes