I may receive a commission if you purchase through links in this post. I am not a doctor; please consult your practitioner before changing your supplement or healthcare regimen.
I had never seen purple tomatillos until last summer when I was shopping at Food Front in Portland, OR.  They have a beautiful produce section. We bought them in a moment of delight.
I was happy to learn that purple tomatillos actually date back to 800 BC and are native to Central America! (800 BC!) They are indeed in the nightshade family, but not related to tomatoes. They are, instead, related to gooseberries and ground cherries.

Another noteworthy quality? They are unusually high in pectin! This means you could experiment by making jam with them, combining their lemony flavor with a fruit to get a sticky, thick preserves with less sweetener. In 1945, scientists even started calling one variety of tomatillos jamberries.
Eating Tomatillos Raw
Another surprise came when my mother-in-law tasted the fruit raw, while prepping it for our dinner.  I had only cooked tomatillos, never eaten them raw.  We ended up keeping them all raw and eating them in small tangy wedges.  They were simply amazing in their flavor: super sweet and super zesty, full of flavor.
If you can find purple tomatillos at your local farmer's market or gourmet health food store grab them up and I hope they're as amazing as ours were.
My mom fulfilled my wildest dreams and grew them this summer in her garden! What a lovely surprise!
Last summer when I came home from Portland I searched all over Eugene to recreate the salsa I had (also) made, and to keep eating the purple beauties, but- no luck! So this post waited a whole year, until my mum grew them, so I could share with you this recipe and fresh photos of the purple lovelies.
Here's the beautiful salsa recipe to feature your zingy fruit; but be sure to snack on them plain too.  We also enjoyed them with brie, aged cheddar and prosciutto, as a wonderful juxtaposition to all that's creamy and rich.
Alternately, you can hand chop all the veggies in this recipe. The day I photographed it, I did just that. It's fabulous with both preparations: use the food processor for a juicier outcome or hand-chop for a pico-de-gallo chunkiness. Every time you bite into a piece of tomatillo you'll be so pleased you made this raw version. They are so sweet! And so lemony. A very fun mouth friend. One that brings adventure.
Print Recipe
PURPLE TOMATILLO SALSA
Ingredients
4

large

purple tomatillos

papery husks removed

½

cup

red onion

diced

2

T.

cilantro

minced

½

red jalapeno

(or use red bell pepper for a not-spicy version) minced, or green if red is unavailable (use caution when handling)

1

serrano chili

(optional, omit for a milder salsa) stemmed, minced and de-seeded (use caution when handling)

1

T.

lime juice

½

tsp.

sea salt
Instructions
Rinse the tomatillos under warm water to remove the stickiness, which can be bitter.

Quarter each of the tomatillos; then place them in a food processor. Pulse the fruit until it's diced in odd shapes.

Add the remaining ingredients and pulse again, just briefly until the ingredients are all mixed together well, and a teeny bit juicy.

Serve.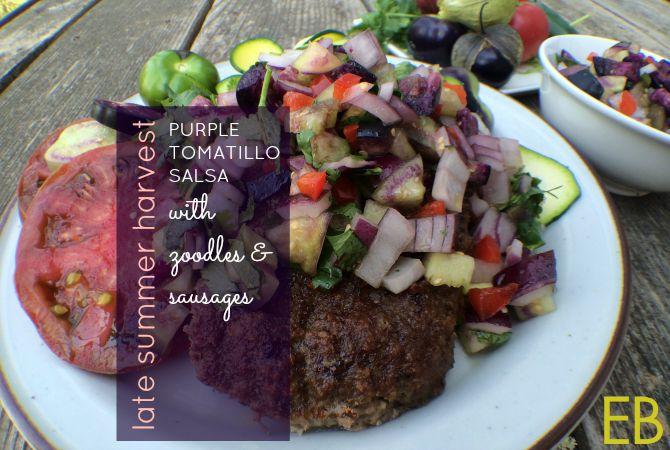 We enjoyed this lovely meal for lunch recently, a late summer harvest from my mom's garden: purple tomatillo salsa topped zucchini noodles; the heirloom tomatoes were at their best; this pork sausage is pasture-raised from a local farm. Everything was in its proper place for us to wiggle and say mmm with enjoyment during the whole meal. Sigh, Summer, we love you.
What about the zucchini noodles?
We have 3 zoodle makers, ones we have acquired in our commercial kitchen that found their way home.  The spiralizer below is my favorite one. It works well in every way.What's your favorite zoodle maker? Do you have one yet?
My biggest and best surprise came with the fact that this sweet, zesty tomatillo salsa is so compatible with zoodles. Zoodles are versatile, and the salsa says summer just when you don't want it to end…