I may receive a commission if you purchase through links in this post. I am not a doctor; please consult your practitioner before changing your supplement or healthcare regimen.
You've heard of a One-Eyed Sailor?  The ubiquitous Bacon & Eggs?  Eggs Benedict?
Trifles.
May I introduce you to my new favorite?
THE PROSCIUTTO EGG
She wins the starring role in your broad-based breakfast bowl due to her many appropriate attributes:
Prosciutto can easily be sourced with only two ingredients: pork & salt.  It requires no sugar or nitrates for curing and is, thus, GAPS-friendly and ideal for most healing diets.
This recipe is quick, easy and simple!
It totally passes the gourmet-meter test.
Visually stunning and impressive, this treat can be presented even to guests.
Anything with a runny yolk gets my vote.  The delicious-factor and mouth-feel of runny egg yolk have set many poets writing.  And our bodies crave this muse's cholesterol: brain and hormone functions thrive on the pure food of raw egg yolk.
Essentially ham & eggs is being re-written into a healing feast.
This main dish goes great with cucumbers, aged cheese, fermented veggies and bone broth for a high-protein, easy-to-digest, satisfying meal.  Also serve with roasted or sauteed veggies.
Both eggs and prosciutto last well in the fridge; so they're great "pantry staples" to keep on hand for a ready-to-go, special meal.
Breakfast, lunch or dinner!
Alternately, try breaking prosciutto up into pieces and beating it with 2-3 eggs.  With this preparation, your scrambled eggs will be infused with a more subtle, rich quality, and the prosciutto's soft, buttery texture will remain.  This is also one of my favorite ways to enjoy prosciutto.  Not everyone loves fried eggs and sometimes our food moods change.
Keep prosciutto and eggs on hand for two gourmet feast options!
THE PICTORIAL RECIPE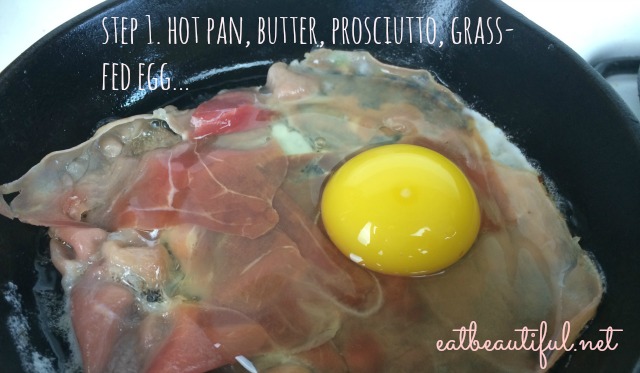 STEP 1. Yep, place 1 T. butter or lard in a small, hot skillet, over medium heat.  Add 1-2 slices prosciutto fanned over the circumference of the pan.  Crack an egg, or two, over the meat.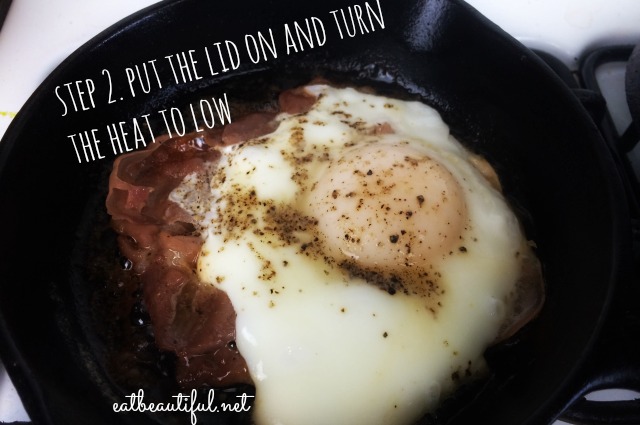 STEP 2. Place a lid over the pan and turn the heat to low.  Allow egg to poach in the steam until the white is cooked but the yolk is still completely runny, about 3-4 minutes.
STEP 3.  To make this recipe with CREAMED SPINACH–
Place your finished prosciutto egg in a warm bowl to keep it hot while you do the following quick preparation in the same pan.
Add 1 T. butter or lard to your little hot pan, over medium-high heat.
Add two hand-fulls of fresh spinach, chopped, and two pinches of salt.  (One cup frozen, organic spinach works nicely in this recipe too.)
Saute for one minute, just until the leaves decrease in size, as they begin to wilt.
Add 1/4 cup grass-fed heavy cream, 2 turns of black pepper and an optional one clove garlic, crushed.
Stir, allowing the rest of the leaves to wilt, the garlic to mellow and the cream to reduce, about 2 minutes.
Serve the creamed spinach under or to one side of your prosciutto egg.
Garnish with freshly grated nutmeg and more s & p, to taste.
Cheers!