I may receive a commission if you purchase through links in this post. I am not a doctor; please consult your practitioner before changing your supplement or healthcare regimen.
Luring you to this recipe with the thought of a creamy, sweet, delicious milkshake — I promise to give you just that! This is the perfect Low Carb Peanut Butter Milkshake — also Keto and even GAPS-diet friendly, with a dairy-free option.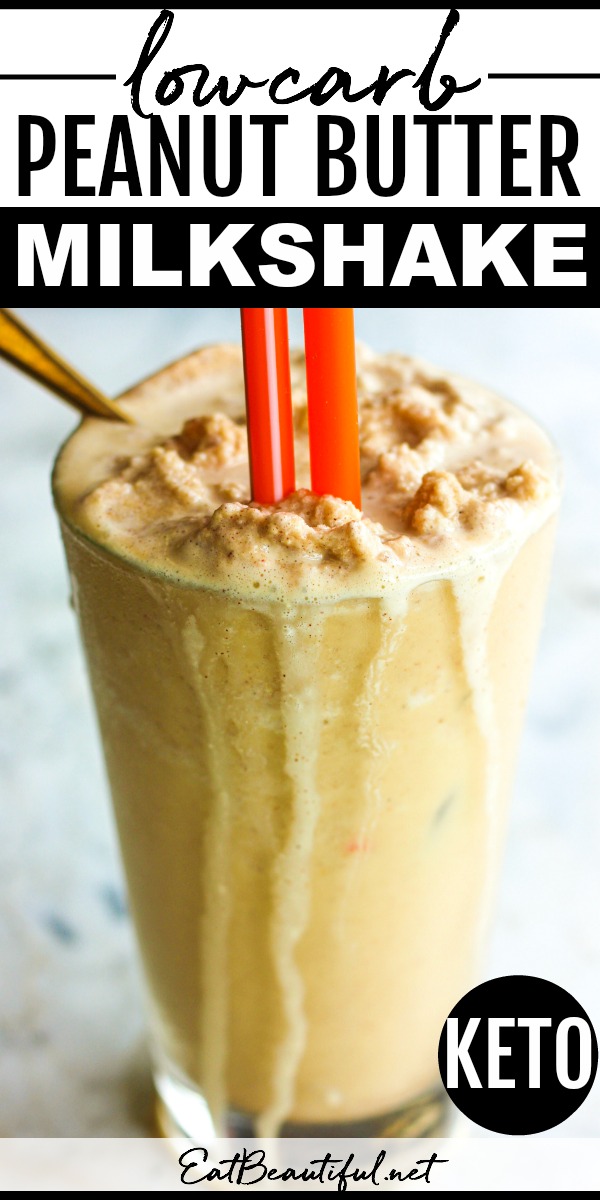 Jump to Recipe
Ingredients in Low Carb Peanut Butter Milkshake
You'll be surprised and so happy about just how creamy and delicious this low carb milkshake is! Peanut Butter Milkshake tastes like it's made with ice cream — pretty much the yummiest thing ever.
This creamy recipe is easily made with just ice cubes, peanut butter, a bit of cream (or coconut cream for dairy-free) and a few other basic pantry items that most of us have on hand: sweetener, vanilla and cinnamon.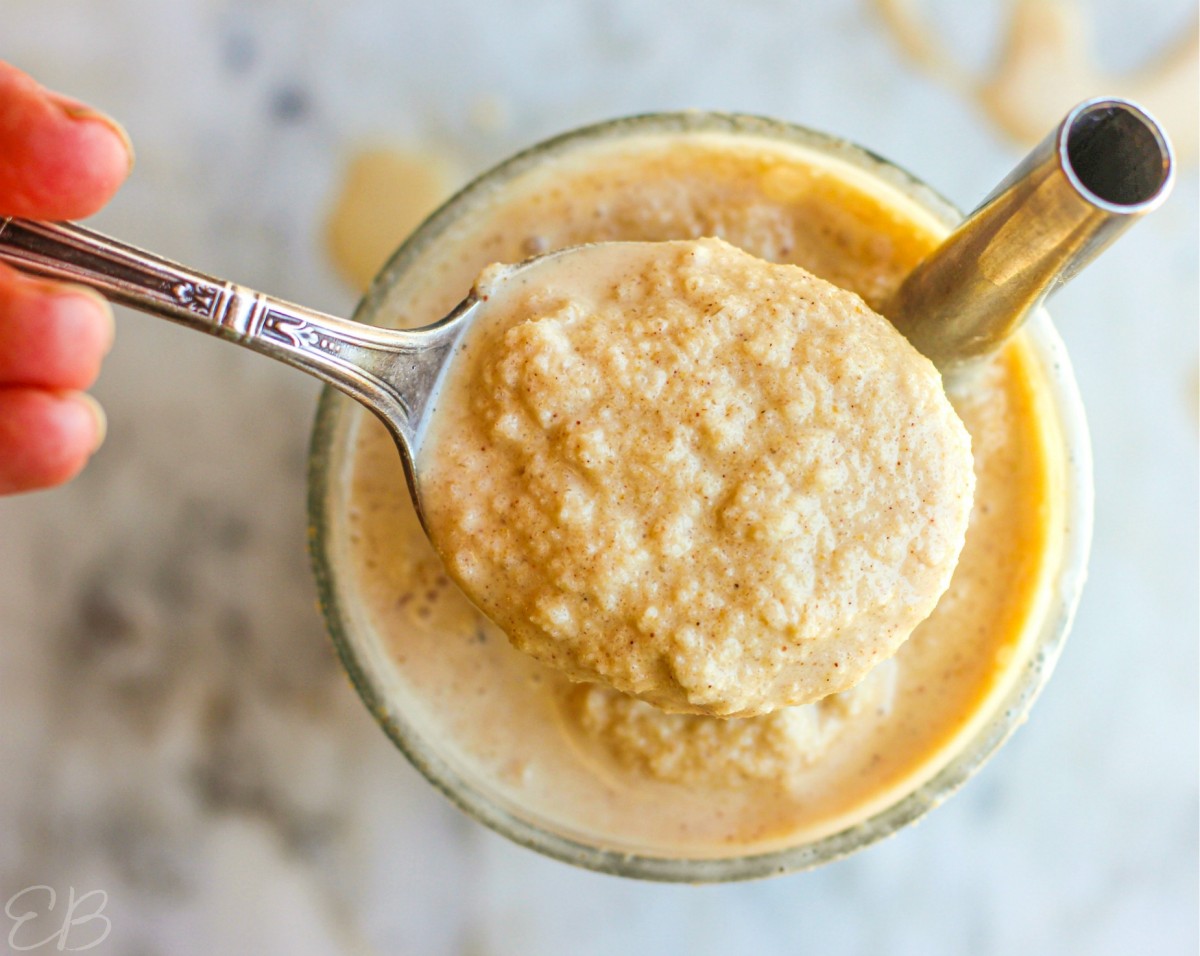 Which sweetener to choose for Peanut Butter Milkshake
Low Carb — Choose either powdered or liquid sweetener: The best option is to use a liquid low carb sweetener like this one. Polyol sweeteners are actually good in milkshakes, because they are sugar alcohols, which means they lower the freezing point and make a creamier shake. Powdered monkfruit sweetener with part erythritol is also fine for Keto and Low Carb.
Hardwood-derived xylitol can also be used for low carb needs.
GAPS — Local raw honey is great for those on GAPS.
Everyone else — Pure maple syrup is delicious-tasting for gluten-free diets or any well person who doesn't want refined sugar, doesn't need low carb, but wants good.
All these sweeteners yield a slightly different flavor profile, and all three turn out a great milkshake and overall texture.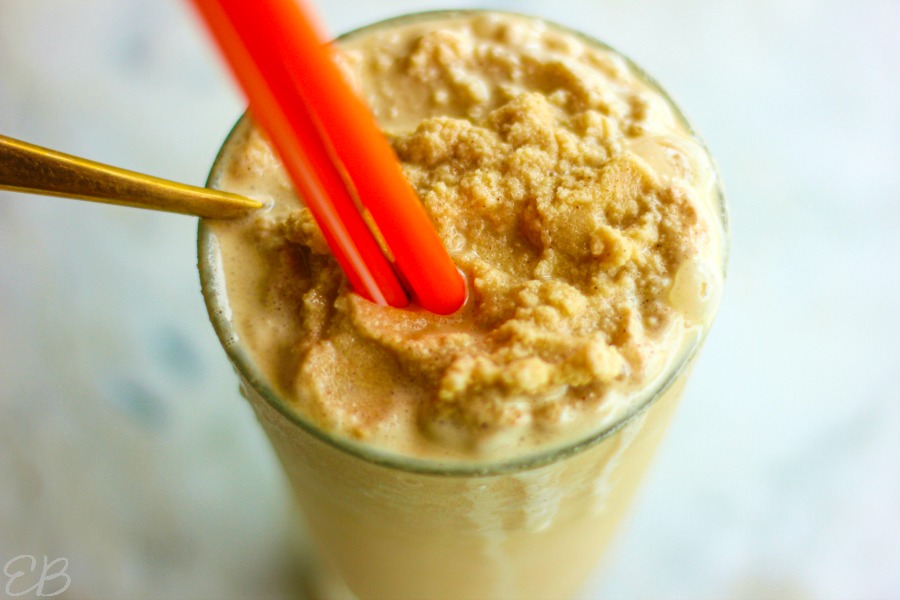 How to serve Low Carb Peanut Butter Milkshake
We owned an ice cream shop for many years where we made Keto ice creams and milkshakes. Of prime importance to us 🙂 was… big, fat straws! We simply love the mouthfeel of a milkshake … don't you?
Some people want to drink their shake to enjoy that texture, or use a spoon; others prefer to use a straw. Key is, in my opinion, if you're going to use a straw, consider getting the big kind. (Like these, these or these.) They add so much pleasure to this crazy-good dessert-snack.
Also see these fun and handy mason jars — they come with lids and Boba straws.
Otherwise, just drink or use a spoon, and enjoy! Pour it into a big tall glass or mug. Nothing is lacking.
If you need an extra big treat, swirl in or top with Keto Pourable Chocolate Sauce. 🙂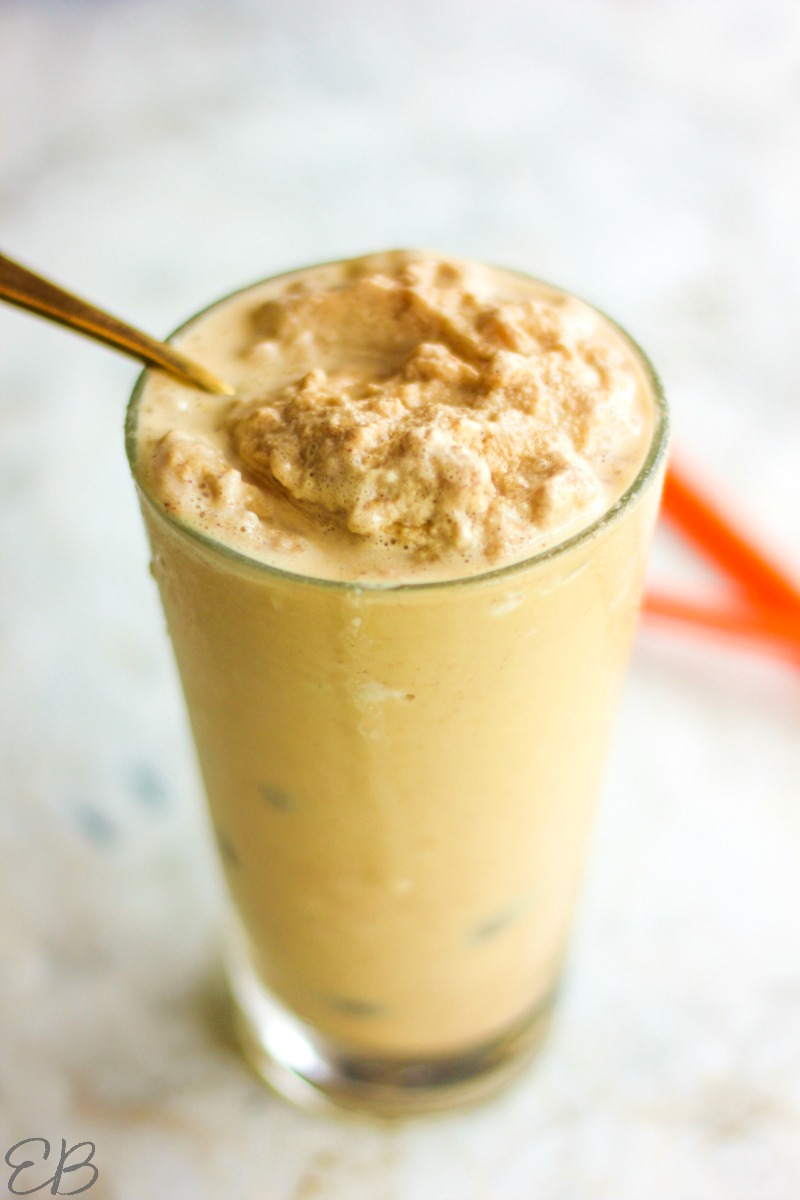 Which peanut butter to choose for low carb treats
Why organic
Be sure to choose a natural peanut butter that only contains peanuts and salt. Most commercially made peanut butters contain oils and sugar.
Also, best to choose organic. It's actually lower in carbs! and healthier: "Because of the low water content in peanut butter, it can become contaminated with bacteria and cause outbreaks of food-borne illnesses. Organic peanut butter often contains a lower carbohydrate content than conventional peanut butter, and this lower carbohydrate content makes it harder for bacteria, such as E. coli and salmonella, to survive, according to a study published in "Applied and Environmental Microbiology" in December 2011." (source)
Fun fact, right?! Organic peanut butter is lower in carbs. 🙂
Best texture
The best peanut butters for milkshakes are the ultra creamy ones. If your peanut butter has little bits of skin in it, so will your milkshake. Our favorite peanut butter for shakes is actually Costco's Creamy Organic Peanut Butter (find it here or at Costco).
We find Trader Joe's organic peanut butter to be a little nubbier and not as good. Adams Organic Peanut Butter is also smooth and creamy.
If you don't mind a bit of nubbiness, I share below the recipe how to make your own organic peanut butter.
How to add more protein and nutrition to Peanut Butter Milkshakes
Whenever I want to bulk up my shakes and smoothies with extra protein and nutrition, I add collagen peptides. Collagen dissolves easily in shakes, and you don't even know it's there.
Collagen provides amino acids that are not found in muscle meats — proteins our bodies need to rebuild tissue, for muscle growth + great skin, gut and joint health.
By adding collagen to shakes, we can also help balance hormone levels and set ourselves up for good blood sugar levels.
(You can find collagen discounted here; use code BEAUTIFUL10 at checkout for 10% off your entire order.)
Making Low Carb Peanut Butter Milkshake for meal prep … ahead of time
You can actually make this milkshake ahead of time! I do this for my husband occasionally.
Just make the milkshake, pour it into 1 to 2 mason jars (like these or these). Leave 2 inches head room so the jar freezes without cracking, and screw the lid on loosely. Freeze.
To defrost, place the shake on the counter (on a dishtowel to absorb drips of condensation) for about 2 hours (or in the fridge for about 4 to 6 hours), breaking it up from time to time … before you plan to enjoy it, or bring to work with you and do the same. When it's time to eat, take a spoon or fork and break up any hard frozen bits to create an even slushy texture. Enjoy!
If you have the blender handy, you can also re-blend briefly for the best texture.

Print Recipe
Low Carb Peanut Butter Milkshake (Keto)
Low Carb Peanut Butter Milkshake is a creamy, sweet & delicious milkshake! Also: dairy-free option. Keto, GF and GAPS-diet friendly, make this shake in 10 minutes or less from just a few basic ingredients you already have on hand.
Ingredients
2 to 2-

¼

cups

ice

: smaller pieces/chunks work better than big cubes. (It's a little hard to measure ice, so err on the side of 2 cups, so your shake isn't icy.)

¼

cup

warm water

¼

cup

peanut butter

, all-natural

¼

cup

cream:

heavy cream for low carb OR coconut cream for dairy-free/GAPS

3

Tablespoons

liquid low carb sweetener

or powdered erythritol/monkfruit blend OR hardwood-derived xylitol, such as Global Sweet brand (OR, for GAPS: honey or Gluten-free: pure maple syrup); use only 2 Tablespoons sweetener if you like it less sweet

1

teaspoon

vanilla extract

(don't omit: try to include this ingredient because the small amount of alcohol creates the best texture, + the flavor it lends)

½

teaspoon

cinnamon

1/32-1/16

teaspoon

powdered stevia

or 5 to 8 drops liquid stevia, to taste: quantity very much depends on which brand you use, so do this, to taste. If you don't want to use stevia or pure monk fruit, add an extra Tablespoon of sweetener.
Instructions
Add ice to a high-powered blender, such as Vita-mix or Blendtec (Blendtec works best to get a completely smooth shake). It will come approximately to the 2-¼ cup line. Add all the remaining ingredients EXCEPT CREAM on top of the ice, in the order they are listed.

Start the motor on low and increase the speed to medium high, blending for about 1 minute, until all the ice is completely smooth and creamy — so you've reached a milkshake consistency. Then add cream and blend again briefly. Taste. If you want it sweeter, add a bit more sweetener of choice and blend again briefly.

Serve.  Makes one 16 ounce serving.
Nutrition
Calories:
493
kcal
|
Carbohydrates:
7
g
|
Protein:
16
g
|
Fat:
33
g
|
Saturated Fat:
7
g
|
Sodium:
308
mg
|
Potassium:
419
mg
|
Fiber:
4
g
|
Sugar:
6
g
|
Calcium:
28
mg
|
Iron:
1
mg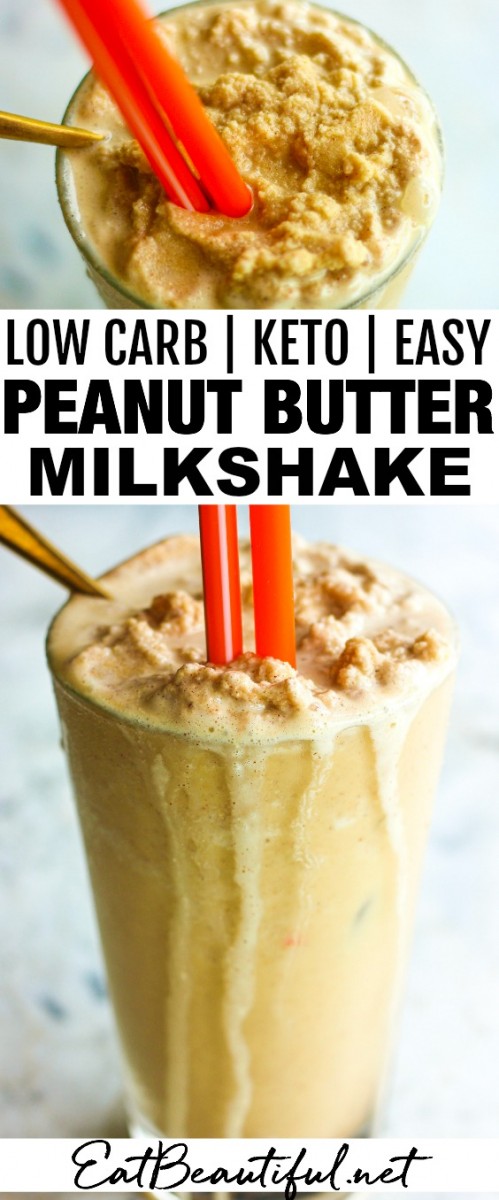 Is peanut butter healthy?
There are often mold issues with peanuts (they mold easily). You can take an herbal tincture to combat this, if it's a concern to you, like thyme. (A dropperful, in some water, whenever you enjoy peanut butter may be helpful.)
If you make your own peanut butter (see below) from home-soaked peanuts, add ½ teaspoon vitamin C powder to your salt-water soaking solution. Vitamin C kills mold. If you're not familiar with soaking and sprouting nuts, seeds, and in this case, legumes, see the footnote below. It explains the easy technique.
How to make your own peanut butter

You can make your own peanut butter, which is surprisingly easy and fun:
For every 4 cups of raw peanuts, cover with room temperature, filtered water by two inches, and 2 teaspoons sea salt. Add ½ teaspoon vitamin C powder (like this). Stir well to dissolve the salt. Leave out overnight at room temperature to soak, and ideally up to 18 hours. Drain peanuts in a colander, and rinse them well.
Dehydrating
Toss with optional sea salt to taste and place in your dehydrator or low temperature-capable oven, 95-145 degrees. As little as 5 hours and up to 24 hours may be necessary, depending on how powerful your dehydrator is. To check your nuts' doneness, let one or all cool to room temperature. Then eat one. It should be very dry and crispy, no softness or chewiness to the inside.
Roast
Place dehydrated peanuts on cookie sheets. Place in 350 degree Fahrenheit preheated oven until fragrant and toasted, about 20 minutes. Watch closely so they don't burn.
Blend
Cool completely. Then place about 3 cups in food processor (depending on the size of your appliance), and blend until fully or mostly smooth. Add sea salt to taste.
Love low carb desserts? Here are a few other reader favorites: