I may receive a commission if you purchase through links in this post. I am not a doctor; please consult your practitioner before changing your supplement or healthcare regimen.
Keto Smoothie for Constipation is a great recipe for everyday, or occasionally, to keep you regular with gentle, effective ingredients: Some are high in fiber, and one is great at getting things moving.
Why is it so important to go poop every single day? Because that's how our bodies detox …! 🙂
A smoothie helps make this important function easy and delicious, plus creates an enjoyable daily dietary ritual. And it's calming to have good food habits!
Jump to Recipe
Why constipation happens on the Keto diet
When you switch from one diet to another, bowel movements usually change. If you're having less than 1 to 2 bowel movements a day, you're at least mildly constipated.
Add to that: many who do the Keto diet load up on bacon, cheese and eggs, while reducing their fiber intake.
This smoothie is high in fiber, while also being low in carbs, and can even be used as a complete meal replacement (feel free to add your favorite protein powder).
New dietary goals for each day: more gentle fiber
By adding in a great source of concentrated fiber each day, you're creating a Keto diet that's no longer low in fiber.
Also consider other additions to your lifestyle that will help support healthy bowels throughout the day:
Drink plenty of water.
Ask yourself if dairy is your friend. Many people's constipation is improved when dairy is removed. (Cream, butter and ghee are gentler and more often tolerated, whereas milk and cheese can be problematic.)
Consider increasing your dose of magnesium. Most people are deficient.
Are you taking vitamin B1? Ask your doctor about increasing your B1 intake. New studies show B1 deficiencies are common and contribute to constipation. (I take this one with both breakfast and lunch.)
Experiment with psyllium, if you don't already use it in your Keto baking (see the recipes below for examples). Sometimes adding in as little as 1 to 3 teaspoons a day of psyllium husk can help bowel movements to be more complete.
Read 12 Natural Remedies and Tips for Constipation for more insights.
How to eat this smoothie, how many servings, when …
This recipe makes two servings, each with 7 grams net carbs prepared one way, or 3.5 grams net carbs prepared another (you'll see both options below).
It can be used as a meal replacement, as it's full of great nutrition — and you could add protein powder — alongside a meal, or as a snack.
Because the recipe makes two servings: enjoy some for breakfast and some with your lunch or dinner — to add great fiber throughout the day. Or split the recipe between two people or two days.
As you wish! You may find that your bowels do best having 3/4 of this smoothie all at once. See what works best for your body and goals of regularity.
Ingredients in Keto Constipation Smoothie
Milk of choice — Or, water can even be used with a little heavy cream (I give details in the recipe).
Avocado — Naturally very low in sugar and net carbs + high in good fats, avocados are full of fiber + their texture is great in smoothies. I buy frozen avocados, which makes this recipe extra easy, as I'm guaranteed ripe, already cubed avocados.
Raspberries — A great low carb berry that's high fiber. I buy frozen and just keep them on hand.
Navy, white Northern or lupini beans — Yes, beans in moderation are allowed on a Keto diet! 🙂 The high fiber is a great choice, and beans also offer lots of other nutrition, including B vitamins. I like to freeze small amounts of beans for this smoothie, and no, you can't taste them at all. You won't know your smoothie has beans in it. (More on beans below.)
Water — Is mixed with the lemon juice below to briefly soak the seeds in this recipe.
Lemon juice — This fresh citrus juice and the raspberries give Keto Smoothie for Constipation its nice flavor. We also briefly soak the flax and chia seeds in lemon juice and water, which helps to make the seeds more nutritious and easier to digest.
Flax and Chia seeds (or basil seeds) — These seeds both work well for regularity: flax seeds are a great source of soluble fiber, and chia are mostly insoluble fiber = a great combo!
Sweetener of choice: stevia, to taste, or your favorite liquid low carb sweetener. (If you're not Keto or Low Carb, you may use pure maple syrup here, or honey for GAPS.)
Extra-virgin coconut oil (OR MCT oil) — See the section just below to decide which one is right for your body.
Coconut oil and MCT oil create movement in the intestines
Pure coconut oil helps with constipation due to its medium-chain triglycerides (MCTs).
Medium-chain fatty acids (in extra- virgin coconut oil) work to relieve constipation by serving as immediate fuel to stimulate intestinal muscles. The movement of intestinal muscles pushes stool forward.
Why MCT oil for constipation
So when we use pure MCT oil, it's got more of what we need, because it's concentrated. MCT oil contains about 90% MCFAcids; pure coconut oil has 50% to 64% MCFAs. For some people, MCT oil causes the bowels to move better.
Why virgin coconut oil for constipation
However, MCT oil lacks long-chain triglycerides (LCTs), which are found in coconut oil. LCTs lubricate the colon and are probably the gentler way to go long term.
You may also use a combination of both, or alternate some days.
One benefit of MCT oil is: its convenience of use. As a liquid fat, it's super easy to just measure and pour it into smoothies. That being said, don't use more than the 1 tablespoon daily. (The other good reason people love MCT oil is it can provide energy to the body and brain, and even aid weight loss. Personally, I do get an energy boost from it.)
Here's a good extra-virgin coconut oil. Here's a good MCT oil. (If you end up liking the results of MCT oil, you may also enjoy Basic Bulletproof Coffee.)
Caution with MCT oil
MCT digests in the liver, not in the stomach. As a result, some people will get adverse symptoms (like nausea or throwing up) if they start MCT oil too fast. If you haven't tried MCT oil before, start with only 1 teaspoon, and increase to 1 tablespoon slowly. Personally, I like the extra energy I get from MCT oil, but I don't use it daily unless I also use part whole coconut oil (or butter/ghee).
How to add coconut oil to smoothies without clumping
This recipe has you melt the coconut oil first.
While blending, slowly pour the liquid coconut oil through the top opening into the smoothie. This beautifully and smoothly incorporates it and completely prevents it from clumping.
Why add beans to smoothies for constipation
In moderation, beans can work well on a Keto diet. That's because they're super high in fiber (and protein). Just a quarter cup of navy beans has almost 5 grams of fiber. But the same serving size does have 7 grams net carbs. Yet many Keto experts advise including this amount in one's daily low carb diet.
In this recipe, choose between using 1/4 cup navy or white Northern beans (6.2 grams net carbs for 1/4 cup), or lupini beans! If you haven't tried lupinis before (find them here), depending on the brand, they actually have zero carbs! You do have to pop them out of their skins, so they're a little more work. But they're a great high fiber option.
And … white beans hide great in smoothies. They purée in smoothly, helping to create a creamy, satisfying base.
Pro tip: Freeze beans in small measured clumps (on a wax-paper lined dish) to add a nice ice cream texture to smoothies.
Optional additional ingredients in Keto Constipation Smoothie
Final ingredients that I like to include are:
Other commonly asked questions
How does Keto Smoothie for Constipation taste?
It actually tastes a lot like yogurt!
I made this smoothie for my 13-year-old son and his friend! … to make sure it was lovable and delicious! …
Yes, they loved it. It tastes healthy, but quite good. I mostly get the raspberry and lemon flavors, and the boys agreed that it tasted like yogurt.
Enjoy with a spoon or big sips, as it's pretty thick, so no thin straw will work.
Do you have to be on a Keto or Low Carb diet to enjoy this smoothie?
No, but you may wish to change the sweetener.
If stevia or other low carb sweeteners don't agree with you, you may consider what sweetener works best for your body, and use that instead (like pure maple syrup or honey for GAPS).
What other Keto foods are good for constipation?
If you're looking to increase your fiber intake while on the Keto diet with more healthy whole foods, consider these: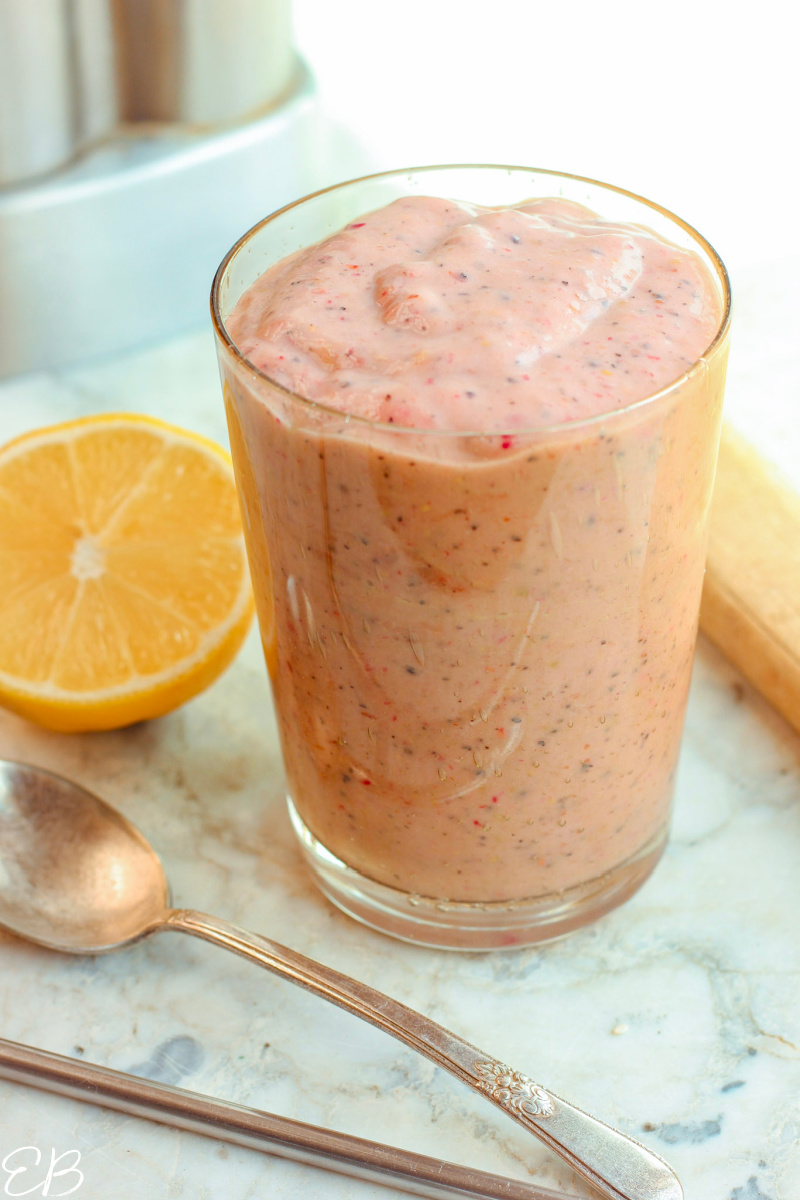 Print Recipe
Keto Constipation Smoothie
This great-tasting smoothie is low carb and great at getting your bowels moving. With healthy whole food ingredients, this daily treat will help your body detox as it should. Keto Smoothie for Constipation is a great recipe for everyday, or occasionally, to keep you regular with gentle fiber & effective ingredients.
Ingredients
1

cup

milk of choice

almond milk, coconut milk or Macadamia Nut Milk OR ⅞ cup water + 1 Tablespoon cream may also be used: If you use this option, do not add the cream until the very end of blending. Add and briefly blend it in after the coconut oil.

¾

cup

avocado

cubes, frozen (unless you prefer a room temperature smoothie) (I like to buy frozen avocados at the grocery store for convenience.)

½

cup

water

½

cup

raspberries

frozen (unless you prefer a room temperature smoothie)

¼

cup

beans

of choice, cooked and preferably frozen: such as navy beans, white Northern beans, kidney beans or lupini (with skins removed; lupini have zero carbs)

2

Tablespoons

lemon juice

fresh: about

½

a lemon

1

Tablespoon

extra-virgin coconut oil or MCT oil (If MCT oil, you may wish to start with just 1 tsp. to be sure it agrees with you, and then increase slowly.)

1

Tablespoon

each: flax and chia seeds (Or, basil seeds may be used in place of chia seeds; they are slightly higher in fiber and have a lovely basil flavor.)
Instructions
In a drinking glass or small bowl, stir together: water, lemon juice, flax and chia (or basil) seeds. Allow to sit 15 minutes, or as long as 2 hours.

Assemble all ingredients. Be sure your beans are frozen if you want a slushy smoothie. (If not frozen yet, it's okay to freeze for just 30 minutes.) Melt coconut oil; then remove it from the burner, and set aside.

Add to the blender frozen ingredients first: avocado, raspberries and beans. Add lemon water with seeds, milk of choice, sweetener and optional sea salt.

Blend on low speed. (Increase speed to medium-low as able.) Mixture will be thick. Blend a full minute because avocado takes some blending to get smooth when it's been frozen. Toward the end, carefully open the lid or pour spout in the lid, and with motor still running, pour in the melted coconut oil. Blend another few seconds. Serve.
Notes
The carbs in the nutritional data below are net carbs. They reflect the maximum number of carbs in this recipe. If you use lupini beans, the net carbs will be 3.5.
Nutrition
Calories:
113
kcal
|
Carbohydrates:
7
g
|
Protein:
2
g
|
Fat:
16
g
|
Saturated Fat:
1
g
|
Polyunsaturated Fat:
1
g
|
Monounsaturated Fat:
5.5
g
|
Sodium:
16
mg
|
Potassium:
353
mg
|
Fiber:
6
g
|
Sugar:
2.5
g
|
Vitamin A:
96
IU
|
Vitamin C:
21
mg
|
Calcium:
18
mg
|
Iron:
1
mg
You can Pin Keto Constipation Smoothie here:
More Keto high fiber recipes I think you'll love
Additional sources 1, 2, 3, 4