I may receive a commission if you purchase through links in this post. I am not a doctor; please consult your practitioner before changing your supplement or healthcare regimen.
Basil Seed Pudding is a great breakfast, snack or treat that's high in fiber and nutrients, plus delicious and convenient to make. With just 2 basic ingredients, this recipe is perfect for Paleo, Vegan, Keto, Gluten-free, GAPS and many other diets.
Like chia seed pudding, but gentler because it's lectin-free, enjoy Basil Seed Pudding as a new and better alternative.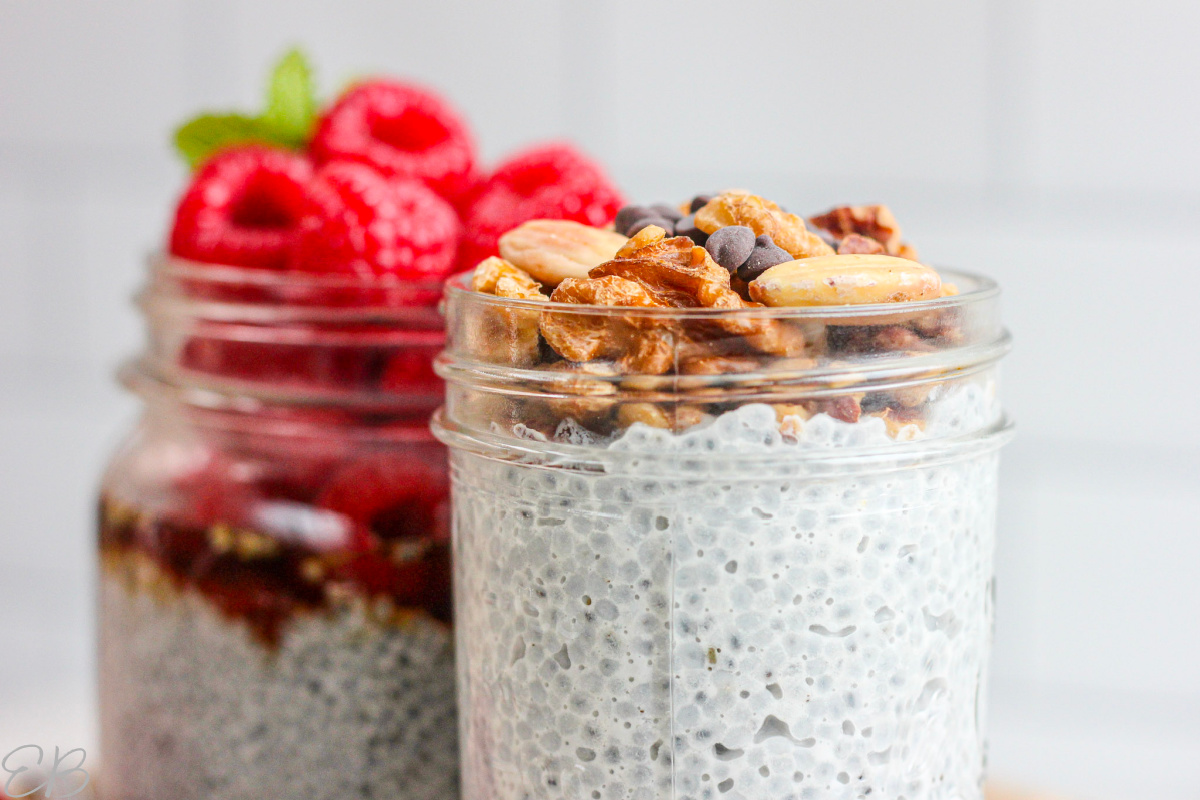 Jump to Recipe
Ingredients in Basil Seed Pudding
Just two main ingredients are needed to create Basil Seed Pudding:
milk of choice, according to your diet and preference: coconut milk, almond milk OR … my favorites, macadamia nut milk or fermented nut or seed milk (if you want to pre-digest the basil seeds to get more of their nutrients + probiotics)
basil seeds (Learn more about what basil seeds are, here.)
optional sweetener — Stirring a sweetener into your pudding is optional! It doesn't need it. And you may also top your pudding with a garnish of sweetener instead: maple syrup, or low carb sweetener of choice for Keto; honey can be used for the full GAPS diet.
optional pinch of sea salt
You may also make this pudding with just water, instead of milk. If so, the seeds absorb more water than milk, so your water-based pudding will be thick. And then you can stir in a cream of choice to garnish, such as coconut cream or cashew cream (for non-low carb).
Here are the basic ratios of how to make thick or thin puddings with milk or water:
FOR A THICK PUDDING — 1/2 cup milk of choice + 2 tablespoons basil seeds
FOR A CREAMY, LESS THICK PUDDING — 2/3 to 3/4 cup milk of choice + 2 tablespoons basil seeds, depending on how thick and dense you want the pudding.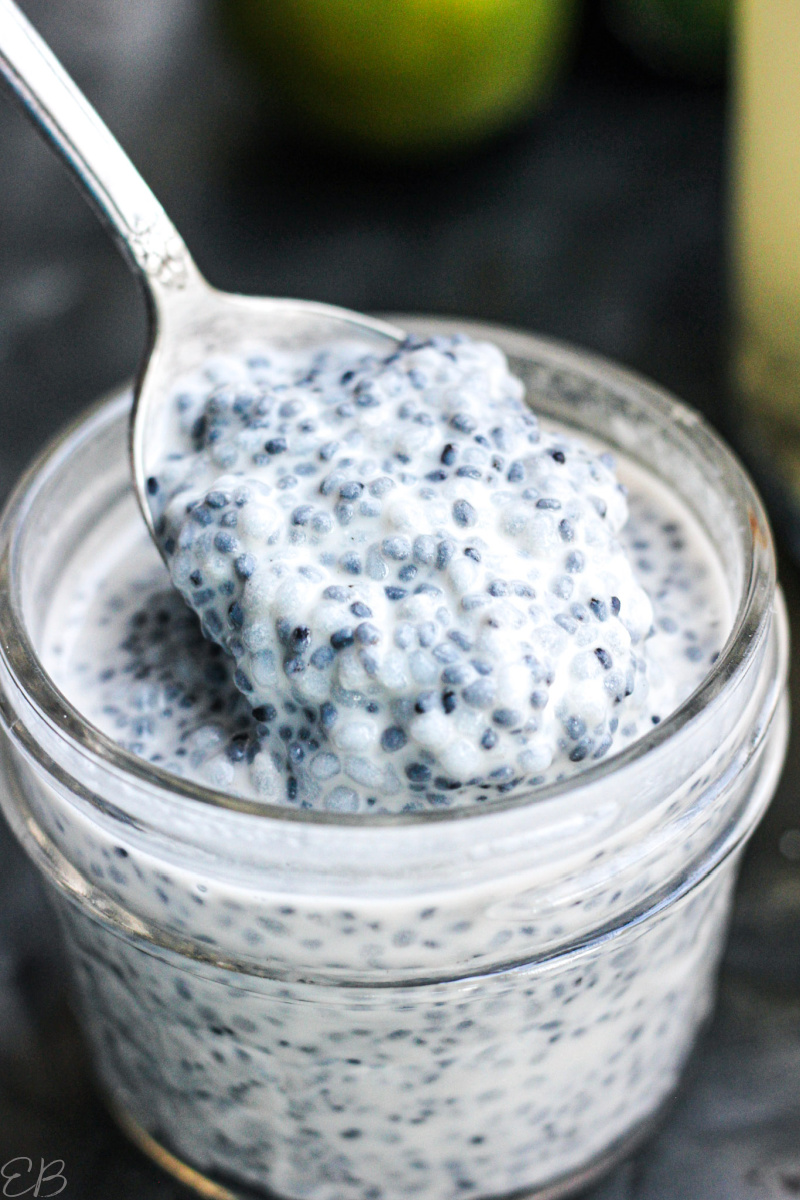 Once you have the basil seed-to-liquid ratio you prefer, the flavor possibilities are endless: chocolate or carob, nut butter or peanut butter, berries, citrus, banana and more. You can even use eggnog in place of the milk.
Feel free to double, triple or quadruple the recipe to make a large batch for the week.
HOW TO MAKE BASIL SEED PUDDING
Basil Seed Pudding is easy to make: just stir the ingredients together, and wait for the pudding to thicken.
It takes just 5 minutes to prep Basil Seed Pudding. But, I do find it's helpful to give the mixture an extra stir once the seeds begin to absorb liquid.
You may also wish to give the pudding one more stir before serving.
Tips and insights about basil seed puddings
Meal prep option: Fill mason jars with Basil Seed Pudding. Leave some room, then top with frozen berries, screw on the lids, and then freeze. When you want a healthy snack or breakfast, thaw in the fridge overnight.
Watch the portion size: It's easy to make too big of servings, when it comes to pudding. But remember to stick to the recipe for the right portion size: 1/2 to 3/4 cup milk to 2 tablespoons basil seeds.
Adjust the ratios to suit your preference: Some like a thicker basil seed pudding and some like a thinner pudding. Add more or less milk, accordingly.
Have fun with the toppings; they can be half the meal!: Use sprouted nuts or seeds, fresh fruit, applesauce, runny jam or berry sauce, whipped cream, cocoa nibs, chocolate chips or cinnamon.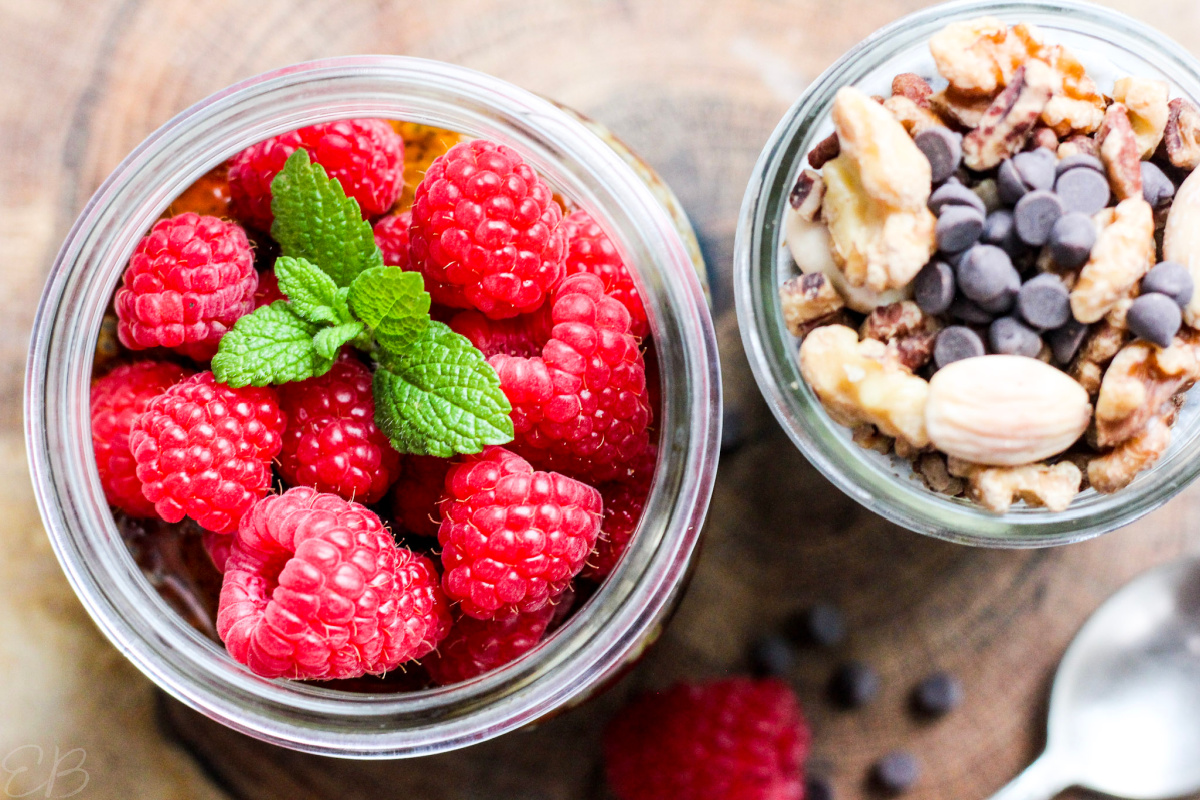 Variation with carob or cocoa
Chocolate Basil Seed Pudding is just as delicious as plain, and only has one additional ingredient.
The other difference with this variation of the recipe is we heat the milk + carob or cocoa first, and then add in the basil seeds once the mixture has cooled.
Heating the carob or cocoa helps its flavor to bloom. No, you don't have to heat, but I think it's better.
Find this version of the recipe in the Notes section below the main recipe.
Lectin-free, no carb basil seeds
Whether you're on a lectin-free diet or not, many of us have learned from Dr. Gundry that lectins are best to reduce in our diets.
Lectins are plant compounds that plants use to defend themselves against predators. As a result, lectins are not gentle for our GI tracts.
Because chia seeds are high in lectins and basil seeds are lectin-free, they are truly the better choice!
Plus, as mentioned, basil seeds are super high in soluble fiber and have no carbs.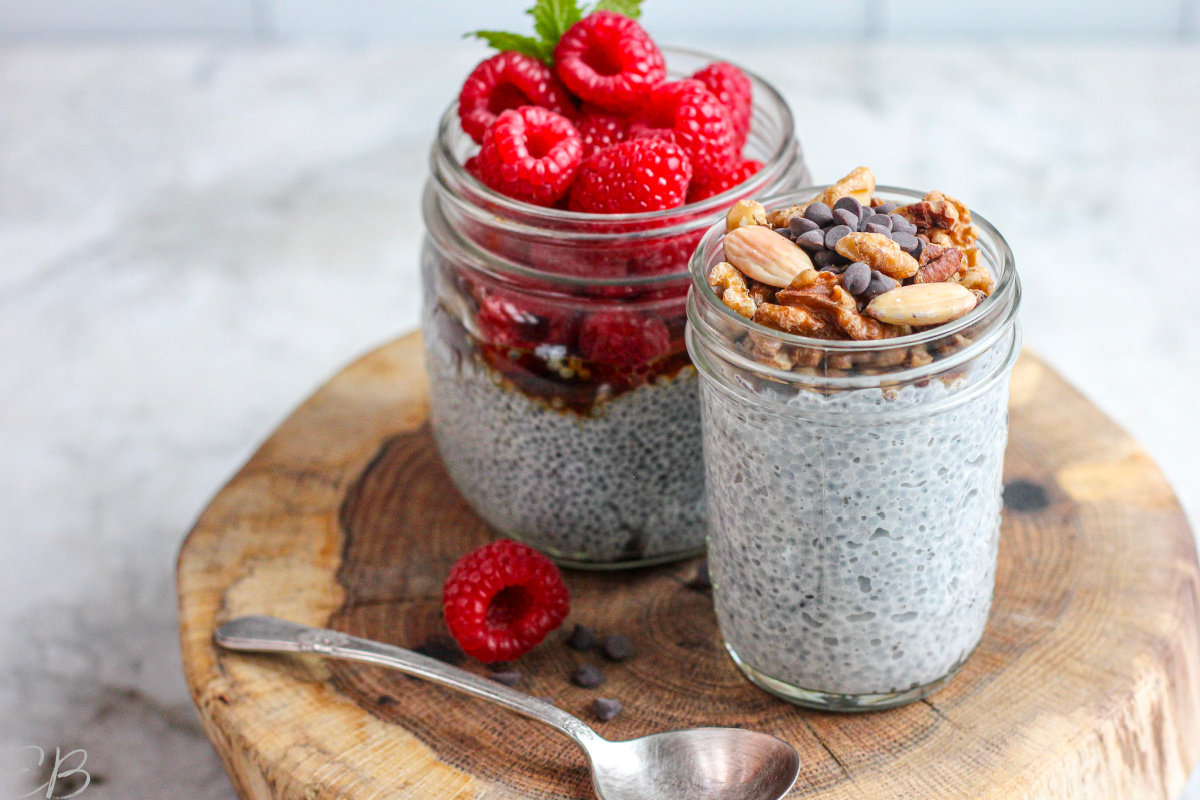 Which brand of basil seeds to buy
I have personally only tried two brands, and interestingly, they were actually a bit different from one another. I chose each one because it was organic but still had a decent price point.
The first, Eden's Larder brand (here), has a really floral, basil flavor. It tastes lovely and fun. The only downside of this brand is that it doesn't absorb liquid as well, so pudding with it may not end up as thick. The seeds retain a bit more crunch and may even slightly alter the ratio called for in recipes.
The second brand, Biobliss (find it here), has a milder flavor, but the seeds absorb a lot of moisture, so they create a really creamy thick pudding. You can add more or less milk to vary the texture, according to your preference.
It sometimes happens with chia seeds that they don't absorb moisture as well as they could, and this happens because they're not fresh. So it may be that Eden's brand doesn't yet have enough turnover on their product, or some other processing issue. However, we still really enjoyed recipes made with their seeds, so you'll have to decide what your priority is: flavor or function.
If the milk to seed ratio is off a little with Basil Seed Pudding (because of your brand of seeds), it's easy to add more milk or more seeds to get it to your liking.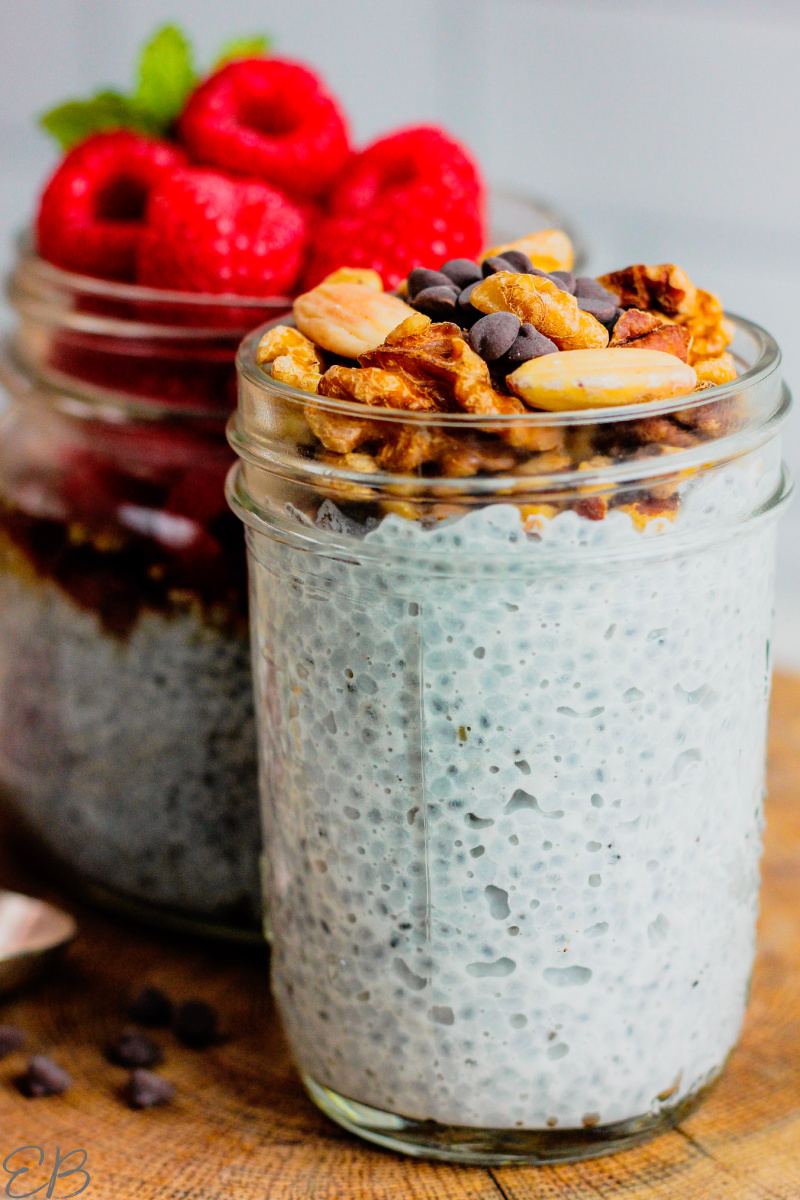 Print Recipe
Basil Seed Pudding
Basil Seed Pudding provides an easy and healthy breakfast, snack or treat. Use coconut milk or nut milk for a delicious dairy-free, Vegan option. This recipe can easily be doubled or tripled, depending on the number of people/servings you'd like to make. Paleo, Keto, Vegan, GAPS, Gluten-free and great for most diets. Lectin-free!
Equipment
bowl and whisk, or glass/jar and spoon
Ingredients
FOR A CREAMIER, LESS THICK PUDDING
Instructions
In glass or bowl of your choice, stir or whisk together the ingredients: milk or water, basil seeds, optional sweetener of choice and sea salt.

Allow to thicken 15 to 30 minutes.

Serve, or cover and refrigerate.

Basil Seed Pudding keeps covered in the fridge for 4 to 5 days. Serve with favorite toppings, such milk of choice, sweetener, berries, Strawberry Topping, cocoa nibs, nuts or seeds, fresh banana (not for Keto) or coconut whipped cream.
Notes
Chocolate or Carob Basil Seed Pudding variation
To make this recipe with carob or cocoa, use the same amount of milk, basil seeds, sweetener and sea salt as indicated in the recipe above:
In a small saucepan, whisk together 1 Tablespooon carob or cocoa with milk of choice.
Stir over medium heat until the mixture is steamy hot, but not yet simmering.
Cool to warm or room temperature, then whisk in sweetener of choice and basil seeds.
Allow to thicken at least 15 to 30 minutes. Chill 3 hours or overnight, if desired.
The following nutritional facts are for the Keto Low Carb version of this recipe.
Nutrition
Calories:
194
kcal
|
Carbohydrates:
1
g
|
Protein:
8
g
|
Fat:
9
g
|
Saturated Fat:
2
g
|
Cholesterol:
12
mg
|
Sodium:
300
mg
|
Potassium:
161
mg
|
Fiber:
14
g
|
Calcium:
145
mg
|
Iron:
1
mg
You can Pin this recipe here: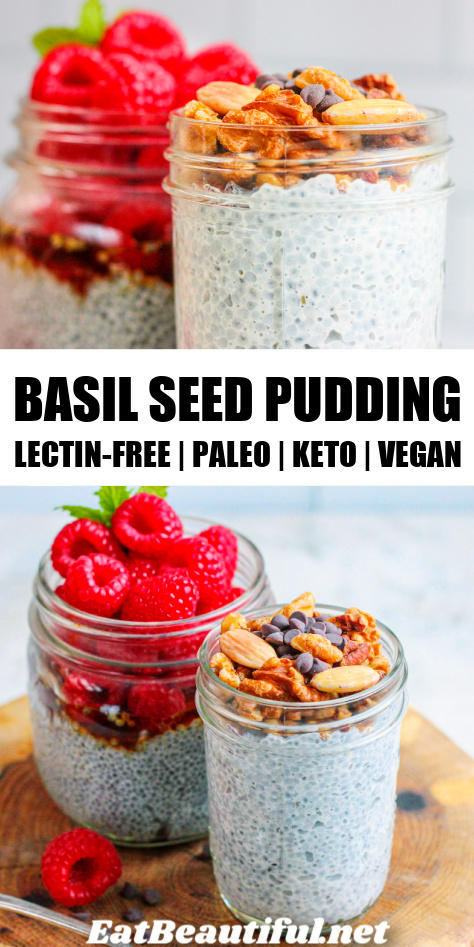 Similar recipes I think you'll like: