I may receive a commission if you purchase through links in this post. I am not a doctor; please consult your practitioner before changing your supplement or healthcare regimen.
We have already decided this will be our special-day (often holiday) breakfast casserole FOREVER. It is THAT good. Paleo, Whole30 & AIP! — That means an egg-free, grain-free, dairy-free casserole! … that's AMAZING! You, too, will love this AIP Apple, Pork and Bacon BREAKFAST CASSEROLE with Delicata Squash, and lovely sage and thyme.
AIP & Whole30 Breakfast Casserole: Egg-free and Dairy-free
In our grain-free, sugar-free family we have one egg-free child and one dairy-free child. Those big eggy, cheesy casseroles you see — They're out, forever.
I made this casserole for all of my AIP and egg-free loved ones, but we (all of us, even those who can eat eggs and cheese) have been so blessed by it ourselves.
Yes, if it's possible to be blessed by a casserole, we have been christened with Happiness, Contentment, and Pleasure, never to feel deprived or divided again, but instead to annually anticipate this culinary trove in all its rapturous yumminess each year. 🙂 (I'm not exaggerating.)
I'm sure we'll eat it other times throughout the year, too, but it does ring of special things.
Ingredients
Please don't skip any of the ingredients, like the bacon, the delicata or the fresh thyme.
They each make this dish SO delicious, all together, and each of them punching you in the mouth separately too, with their AWES of goodness: the sweets, the salty-tangy, the rich, the herby-good.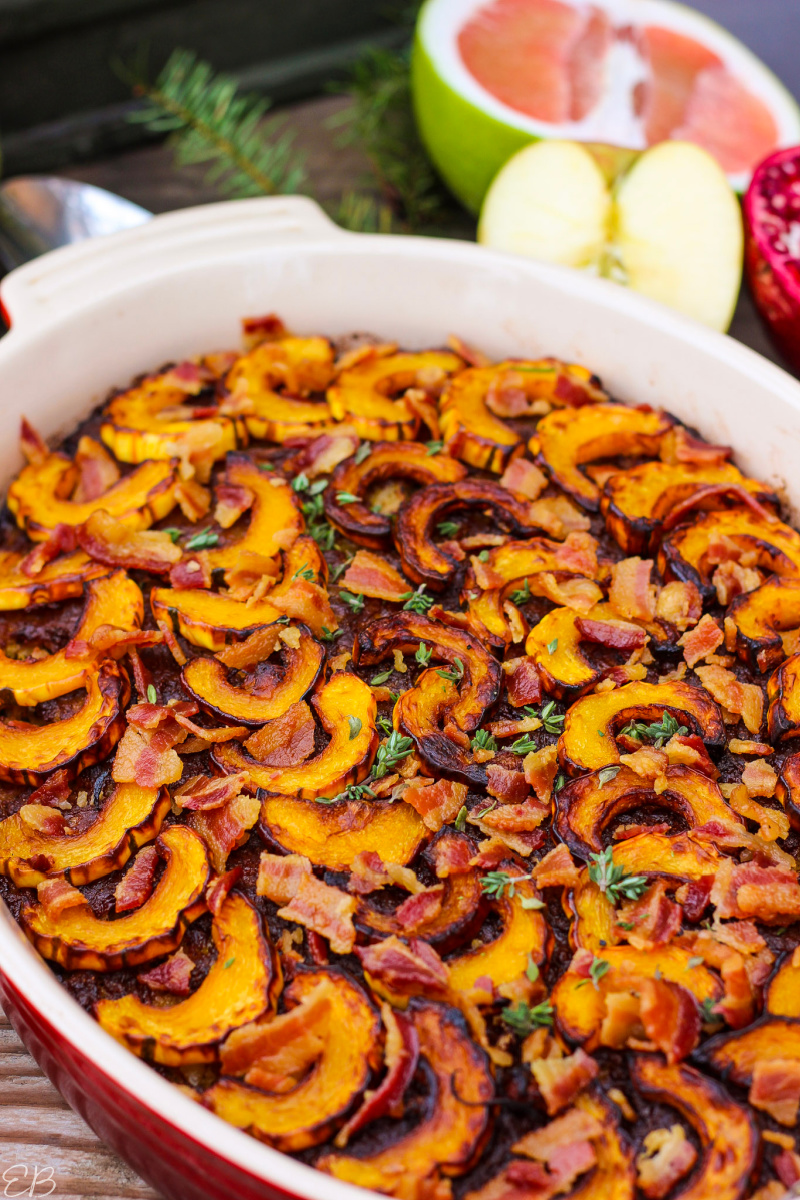 How to make AIP Apple, Pork and Bacon BREAKFAST CASSEROLE with Delicata Squash
The main things to note about this casserole prep are:
The raw bulk pork gets mixed together a little like a meatloaf.
So, you will not cook the ground pork before the casserole gets put in the oven.
This makes the prep time for the casserole really fast, and it's an easy one to make.
It also means that the filling, after baking is moist and delicious, plus light in texture with crispy edges.
Order of events:
Bake the bacon, and pre-bake the delicata squash slices.
Mix the raw pork with the remaining ingredients, and fill your baking dish with it.
Do an initial baking.
Then, top with delicata and finish the baking.
Garnish with the bacon and thyme.
Serve!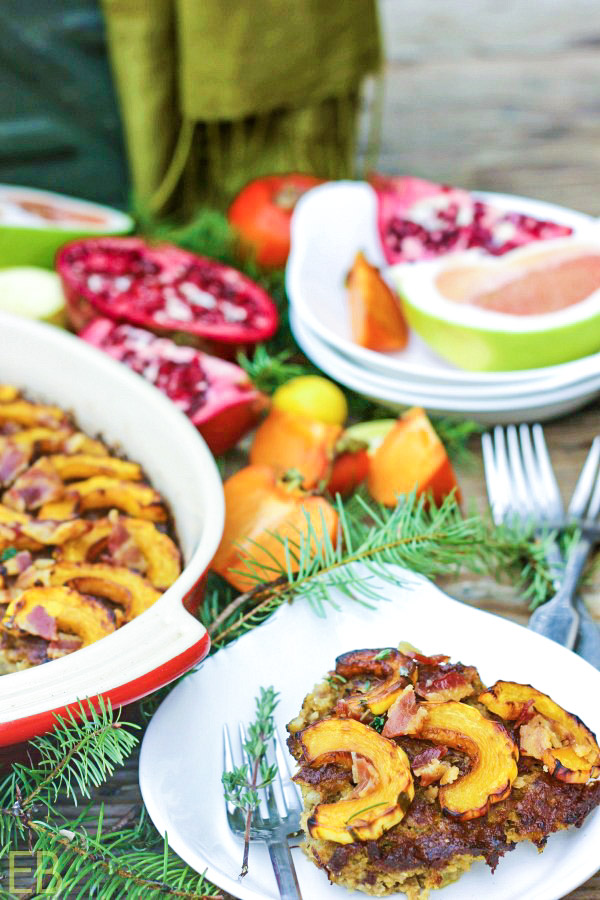 Delicata Squash on top of AIP Apple, Pork and Bacon BREAKFAST CASSEROLE
Have you cooked or eaten delicata squash before?
If not, they're:
small (and inexpensive)!
easy to cut raw, unlike other winter squash.
SOOO sweet (like caramel when roasted)!
And, they don't need to be peeled!
You will love what they add to your life and to this casserole.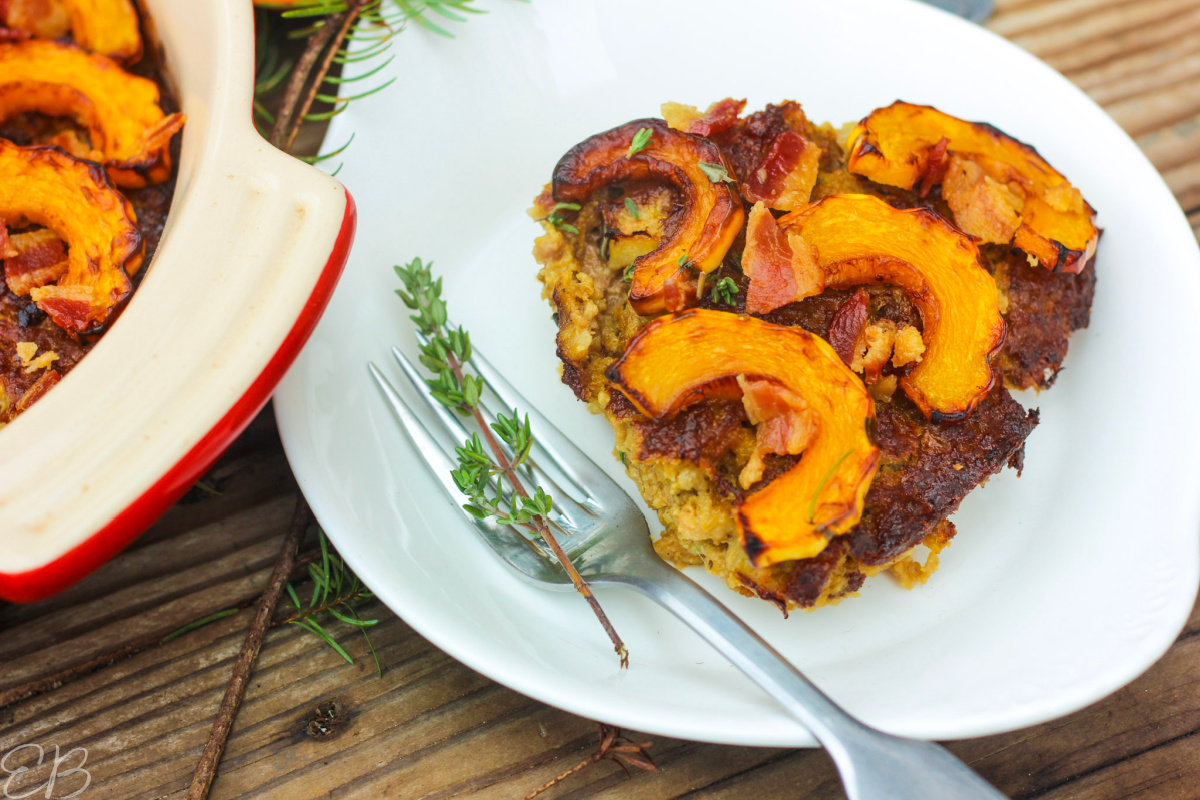 Holiday Thyme
About fresh thyme, please re-fall-in-love with it with me! We've been buying it regularly this winter (and I have plans to plant and grow it!) because of just how lovely it is.
If you've forgotten, too, you'll see what I mean when you make this and eat it.
(We even put it inside our homemade grain-free tortillas with whatever meat and veggie fillings and LOVE what it adds.)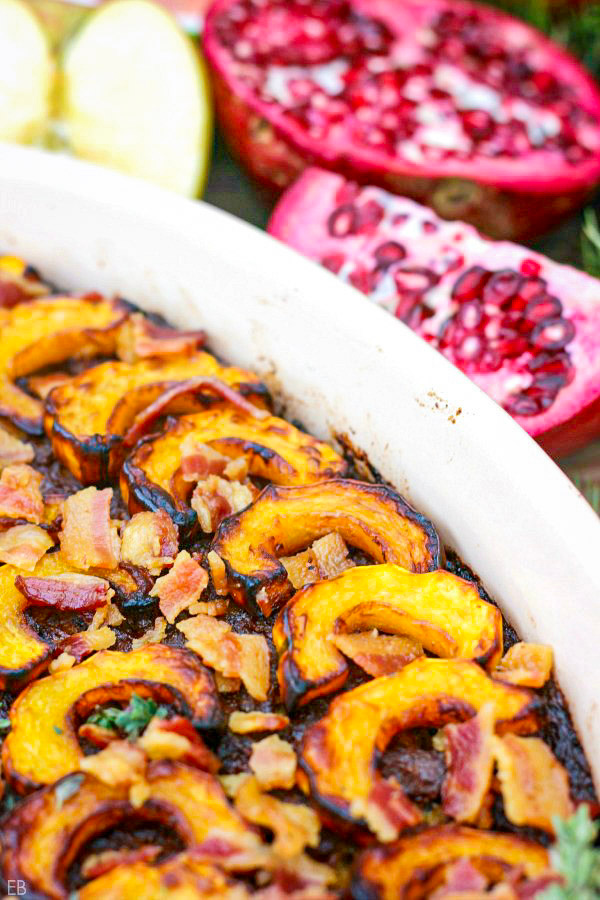 Let me know in the comments how you like AIP Breakfast Casserole!
Print Recipe
AIP Apple, Pork and Bacon BREAKFAST CASSEROLE with Delicata Squash
This super special breakfast casserole doesn't have eggs or dairy, yet it's SO delicious and perfect for any holiday or brunch gathering. (Paleo, AIP, Whole30)
Equipment
baking dish

oven

baking sheets
Ingredients
2

lbs

ground pork

pasture-raised preferred

1

large

delicata squash

cut in half length-wise, seeded, and sliced into 1/4" slices (do not peel)

1-

½

cups

filtered water

1

cup

pumpkin

canned or leftover cooked winter squash, smashed

1

large

apple

diced and unpeeled (or diced onion, if you can't have fruit)

⅔

cup

cassava flour

1

package

bacon

10-12 ounces/8 pieces

1

tablespoon

apple cider vinegar
2-

½

teaspoons

sea salt

2

teaspoons

dried sage

1

teaspoon

baking soda,

sifted

several

sprigs

fresh thyme
Instructions
Preheat oven to 400 degrees Fahrenheit.

Spread bacon out on a large baking pan (a half sheet is preferred, see link below in Recipe notes, or use two pans [with bacon pieces evenly divided between the two pans] if you don't have one big one). Bake bacon 10 minutes, until fat is partially rendered but it's not yet fully cooked.

Remove pan from oven. Move bacon over to one side of pan, the pieces very close together. Add delicata slices, *coating each slice on both sides with the rendered bacon fat* as you lay them down close to each other. The pan will be full, but it will all fit perfectly.

Bake in 400 degree oven about 13 minutes, until bacon is cooked perfectly and squash is cooked, but not all of it is browned.

Reduce oven heat to 375 degrees.

Grease large casserole dish. (It can be a 9x13" or something oval, but it needs to be about the dimensions of 9x13" so the meat comes up the right height in the dish and cooks according to these instructions. It can not be a deep, smaller dish.)

While bacon and delicata are cooking, combine in small bowl: cassava flour and sifted baking soda. Set aside.

In large bowl combine: pumpkin, water, vinegar, sea salt, sage; mix well.

Add pork to large bowl, and stir with long, big fork, or use hand-mixer on lowest speed. Fully mix pork into pumpkin-water mixture. It will be slightly fluffy and lovely. 😉

Add cassava mixture and mix well. Fold in apples.

Pour into prepared casserole dish, smoothing out the top with your finger tips or the back of a spoon/fork.

Place casserole into oven. Set timer for 25 minutes.

Remove casserole and decoratively arrange top with delicata slices. Return to oven.

Bake casserole 8-10 minutes. Watch it closely because delicata can get too dark very quickly. You want them browned, (but not burned).

Remove from oven. Crumble bacon pieces all over the top.

Run your fingers down the tough stems of the fresh thyme, perched over the top of the casserole, topping the casserole with fresh thyme. Try not to skip this ingredient. It is LOVELY and really finishes the casserole beautifully flavor-wise (as well as visually).

SERVE! 🙂 Or the casserole can sit for up to 15 minutes before serving.
Notes
Here

are the baking pans I recommend. They're very versatile and will last a lifetime. They're large and safe for everything except citrus and tomatoes (nothing reactive). Perfect for baked goods and bacon.
Nutrition
Calories:
602
kcal
|
Carbohydrates:
19
g
|
Protein:
27
g
|
Fat:
46
g
|
Saturated Fat:
16
g
|
Cholesterol:
118
mg
|
Sodium:
861
mg
|
Potassium:
712
mg
|
Fiber:
2
g
|
Sugar:
5
g
|
Vitamin A:
2050
IU
|
Vitamin C:
10.8
mg
|
Calcium:
54
mg
|
Iron:
2.3
mg
AIP treats to go alongside holiday casserole:
You can Pin this recipe here: