I may receive a commission if you purchase through links in this post. I am not a doctor; please consult your practitioner before changing your supplement or healthcare regimen.
Taco shells, when you haven't eaten anything like them for (in our case) YEARS, are SUCH a pleasure. And everyone I know who's eaten these taco shells prefers them to corn tortillas. How is that even possible? I think it's because they're made with plantains, and plantains are awesome. … And sometimes the foods allowed on restricted diets still happen to be the most awesome foods! This recipe has only 3 nourishing ingredients: great fat, plantains (see this recipe too!) and sea salt. So yes, they're stupendously simple to make, delicious and better than corn for good reason. These tortillas are good for the body, gentle on the gut and beautiful for both Paleo and AIP diets.
I first made them for our family after getting back from a cookbook retreat. I have four of my recipes in a new eCookbook, written by a friend, who also has several other contributors. We all got together on a beautiful Oregon river, in a neat rental house, and ate the food from the cookbook! We talked about healing and natural living and feasted and rested together. This is that eCookbook.
This recipe, the plantain taco shells, was a big hit at our retreat, so I thought of my egg-free son and my Paleo kids, each with their own eating restrictions; and I came home and made them all a big taco feast. Now my only job is to keep making this dinner again and again and again. It's on repeat. (This recipe, by the way, was created by one of the book's contributors, Tiffany Firestone!)
The carnitas are memorable too. I love great pork. We only buy pasture-raised, and my body loves the fat, the fall apart meat, and how it's fried crispy for this recipe.
You can find the carnitas recipe and all of our other recipes and healing stories, if you're interested, in Andrea's eCookbook, HERE.
Regarding the taco shells, they're fast to make. Just watch they don't burn in the oven. Plantains are sensitive that way. Enjoy all the topping options that your diet affords: fresh radishes, green or purple onions, spicy jalapenos? (not AIP), fresh cilantro, wilted cabbage slaw, fresh lime juice etc.
Paleo & AIP Plantain Taco Shells (no corn; 3 ingredients!)
Servings
:
2
servings (8 small tacos)
Ingredients
2

plantains

medium ripe

4

Tablespoons

oil

lard, coconut oil, avocado oil etc.

4

Tablespoons

water

add more as needed (I don't need more)

a few

pinches

sea salt
Instructions
Preheat oven to 375 degrees Fahrenheit.

Remove peel from plantain.

Blend all ingredients together in a high speed blender or food processor. Add a Tablespoon of water as needed to blend into a smooth batter. You may have to stop the blender a few times, scrape down the sides, and blend again.

Line a baking sheet with parchment paper.

Spoon 2 Tablespoons of the batter at a time onto parchment paper. Use the back of a wet spoon to smooth out batter, and create round tortilla circles about 4 inches wide and 1/8 inch think.

Bake for 10 minutes, then flip, and then bake an additional 5 minutes.

You can enjoy them as soft taco shells, or make hard shell tacos by gently folding them into the shape of taco shells and hanging them over the oven rack, and baking an additional 4 minutes, or until firm. **Keep a close eye on them to prevent burning.**

(Find the Pork Carnitas for Street Tacos in the cookbook. The recipe gives oven, slow-cooker and Instant Pot instructions. The soft-cooked pork is lightly seasoned and fried crispy, SO good!!)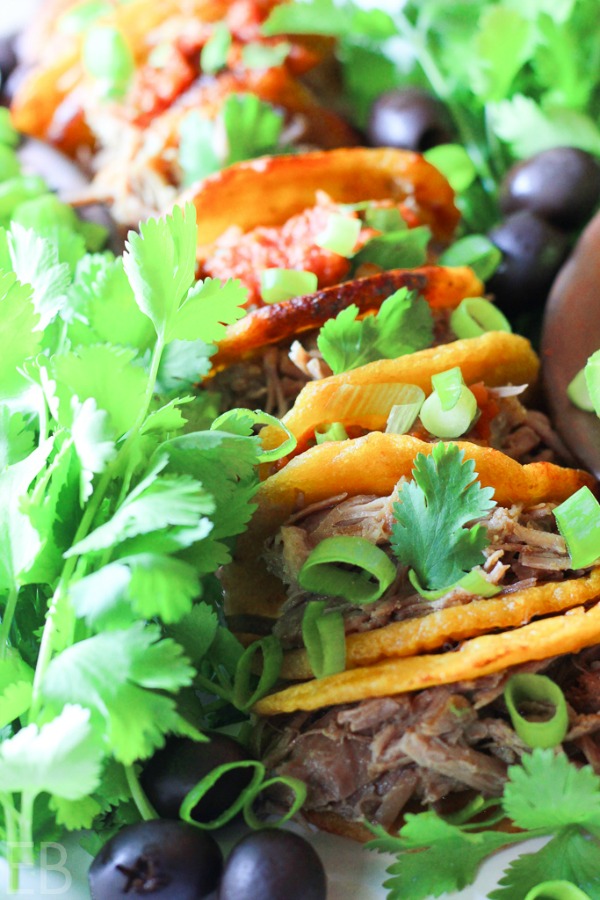 Enjoy your taco shells and taco feast! Want to see if the eCookbook is right for you?
Love plantains? I also recommend these recipes: