I may receive a commission if you purchase through links in this post. I am not a doctor; please consult your practitioner before changing your supplement or healthcare regimen.
The first major step many of us take toward wellness is eliminating sugar. In my own health journey I clung to sugar for as long as I could– lots and lots of ice cream. I had a rash on my face that many of our customers still remember. I get comments occasionally (that make me laugh inside), "I haven't seen you in so long. Your skin looks so good." Ha ha ha. Apparently my skin issue was rather noticeable.
When I finally released my grip and eliminated sugar my rash went away immediately. I am sad to think how many people go to dermatologists (and receive pharmaceutical or steroidal topical creams) for skin issues when diet will often heal a variety of rashes, (including my daughter's eczema) and begin to heal the root cause.
What else went away immediately upon eliminating sugar from my diet? Arthritis! It started in my 30s. I'd wake up with my fingers bent and crooked. I couldn't straighten them; and they were painful to touch.
Although I had this symptom for over a year before giving up sugar, it was completely gone, never to return, upon eliminating sugar.
(There were other issues that resolved as well, including candida overgrowth.)
So, basically, sugar is a downfall for those of us with autoimmune issues. For those of you who are healthy and symptom-free, sugar is still something to enjoy in moderation. Substituting in whole food alternatives is healthful for everyone. (If you continue to have sugar in your diet, just make sure it's organic evaporated cane juice, rapadura or sucanat [not white sugar like C&H]. These are less refined, more natural forms of sugar and are not genetically modified.)
One way to eliminate, or reduce sugar intake, is to substitute in honey. If you have old favorite recipes you'd like to convert, below are guidelines and a helpful chart!
How to Sub Honey when Baking
When baking with honey, there are a few characteristics that make it different than baking with sugar.
Here are the 3 main differences:
Honey browns more quickly in the oven or even in the frying pan (like with pancakes). The solution is baking honey-sweetened batters at a lower temperature.
Honey is heavier, denser and wetter than sugar. Increasing the quantity of leavening just slightly helps to counteract this.
Honey is sweeter than sugar AND has a stronger flavor. Decreasing the amount of honey in a recipe that originally called for sugar will prevent your baked good from being too sweet or tasting too strongly of honey, which doesn't allow other flavors to come through.
Below are the conversions to help you make adjustments. As you'll notice, there is also the instruction of potentially reducing the liquid in a recipe. This refers to pancake-like recipes that often call for milk. Because honey makes baked goods wetter, it is helpful to reduce milk or other liquid ingredients to compensate.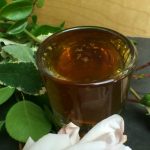 EXACT CONVERSION CHART: Sugar –> Honey When Baking!
Ingredients
1/4

cup

sugar--> 3 T. honey

reduce oven temperature by 25 degrees

1/3

cup

sugar--> 3 T. + 1 tsp. honey

reduce oven temperature by 25 degrees

1/2

cup

sugar--> 1/3 cup honey

add 1/4 tsp. baking soda, reduce potential liquid by 1 T., reduce oven temperature by 25 degrees

1

cup

sugar--> 3/4 cup honey

add 1/2 tsp. baking soda, reduce potential liquid by 1/8 cup (2 T.), reduce oven temperature by 25 degrees

2

cups

sugar--> 1 cup + 6 T. honey

add 1 tsp. baking soda, reduce potential liquid by 1/4 cup, reduce oven temperature by 25 degrees
Here's the pin able chart for easy reference.
For those on healing diets, or those who try to protect their stomach ph, increasing the quantity of baking soda is optional.