I may receive a commission if you purchase through links in this post. I am not a doctor; please consult your practitioner before changing your supplement or healthcare regimen.
A NEW RECIPE FOR COMFORT FOOD
This dish is a welcome meal for a cozy dinner.  The thinly sliced cabbage in the stew mimics egg noodles.  The peanut butter sauce, spiked to spicy with ginger, provides a delicious forum for bone broth.  (Spicy meter?  Medium, by lightweight American standards.  Reduce the amount of ginger and omit the spicy pepper if you're serving young kids.)
WHICH PROTEIN TO USE IN THE STEW
We eat meat at every meal.  But every once in a while the protein source in a dish becomes less important, because the base of the recipe and the veggies are just so good.  This is one such recipe.
Your protein choice is secondary.  Any meat will work well.  Most obviously prawns or chicken go great in this sauce.  But thinly sliced beef or any fresh fish would be complimentary too.
From a practical perspective, choose a meat that will cook quickly, poaching in the sauce during the last 5-10 minutes of cooking.  The way you'd prepare chicken or beef for fajitas, thin slices, would be great.  Or use leftover meat, already cooked shredded chicken or whole prawns can be added at the very end, just folding them into the sauce to heat through.  Fresh fish could be cubed and tossed with the stew just five minutes before serving.  Be creative and let the protein part of the meal be relaxed and easy.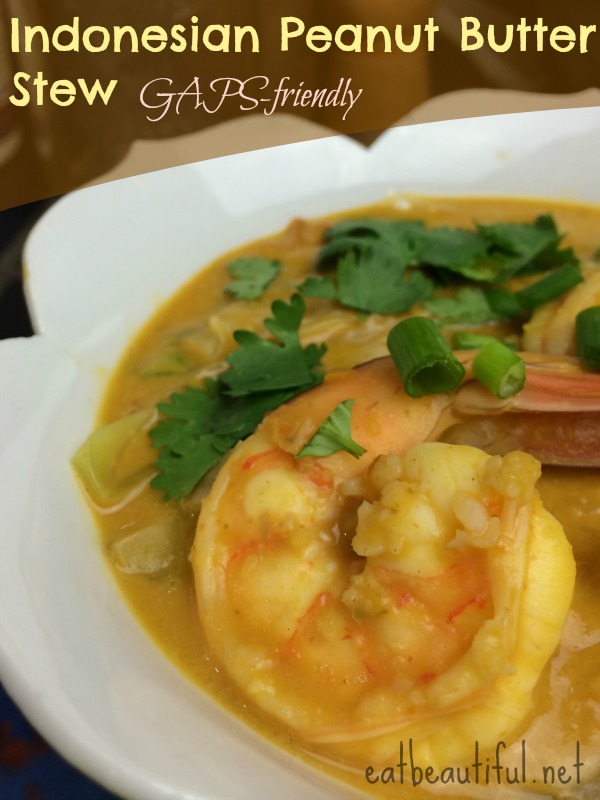 Ingredients:
1 lb. meat of choice- sliced if raw, shredded if already cooked, whole prawns, or if fresh, raw fish is used, cube it
4 cups bone broth (see my favorite version here)
2 cups leftover winter squash, baked and cubed, mushy chunks are fine- kabocha or butternut recommended; 1 can BPA-free organic pumpkin can also be used
3 cups thinly sliced cabbage, in long strips- I small-medium size cabbage
1 cup fresh veggies of your choice, thinly sliced- green onions, bell pepper, zucchini or carrots
1 cup organic peanut butter, smooth with no sugar added
1/4 cup fresh ginger, grated or minced
1/4 cup thinly sliced green onion
2 T. sesame oil or fat of choice
5 cloves fresh garlic, crushed or minced
1/2 jalapeno or serrano pepper, seeds and membranes removed, minced (optional)
1 T. coconut amino acids
1 T. fresh lime juice
2 t. fish sauce, check the ingredients for no sugar (omit if you can't find a no sugar option)
1 t. sea salt
1/2 bunch fresh cilantro, chopped
 Preparation:
In a large cast iron skillet or dutch oven, saute the sliced veggies (not the cabbage) and 1/2 the sea salt  in sesame oil over medium heat for 5 minutes, stirring occasionally.
Add the ginger, garlic and spicy pepper and continue cooking over low heat for 5 minutes.
Add the peanut butter and stir until it is mostly mixed in.
Add 1/2 the bone broth, whisking until the mixture is smooth.
Add the remaining bone broth and bring the sauce to a simmer.
Add the cabbage on top of the sauce, sprinkling in the remaining sea salt and put a lid over the pan.  Allow the cabbage to wilt for 10 minutes.
Take off the lid and stir the cabbage into the sauce.
Replace the lid and wilt the cabbage down for 5 more minutes.
Add your meat choice, folding it in, allowing it to poach with the lid on, for 5 additional minutes, or until it's cooked through.
Turn off the heat.
Stir in the coconut amino acids, lime juice and fish sauce.
Serve, garnishing each bowl with fresh cilantro and/or sliced green onion.
Serves 4-6